Hazel Collins Knotts of Grantsville died November 7, 2003, at the home of her daughter Norma Knotts Shaffer. She celebrated her 91st birthday on June 3rd.

Norma has been taking care of her mother for over two years, with the compassion of a daughter and her training as a nurse.

Norma is the Associate Editor of the Hur Herald, and one of the reasons for its existence.

She has made many contributions to the Herald, work, stories, pictures and editing, but more importantly, it has been her encouragement from day to day.

Her contribution in recording the history of Calhoun County in words and pictures, is already a significant body of work, somewhat slowed because of her ailing mother.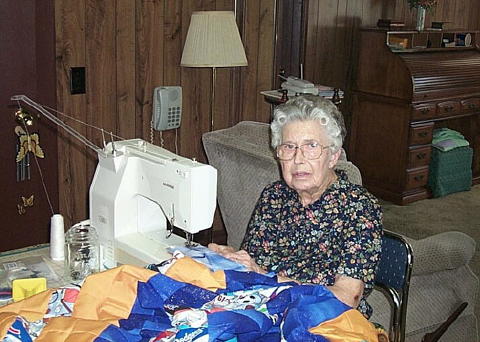 Hazel pieces a quilt top for great-grandson, Nigel Myers
Hazel Knotts is the mother of three children, Norma Shaffer of Grantsville, Jim Knotts of Mineral Wells, and Tom Knotts of Corning, N.Y. She is the wife of the late Robert J. Knotts, Jr., and has seven grandchildren, eight great-grandchildren, and four great-great-grandchildren.
Funeral arrangements are being completed at the Stump Funeral Home in Grantsville.
Cards may be sent to the Knotts Family, P.O. Box 956, Grantsville, WV 26147.