By Bob Weaver 2001

Introduction: The Wayne Underwood monument and plaque have been moved to the new athletic complex at Mt. Zion, but Underwood's name remains on the old field of play at Grantsville, now owned by the county.

Now, a museum in Underwood's honor is being proposed (now complete) for the new athletic complex at Mt. Zion.

Youngsters, except by word-of-mouth, will be unaware of Underwood and a long history of dedicated sports in the earlier days of Calhoun County. So, here we pass it on, those memories:

He was a quiet man, at least on the outside, drawing boys to his side from the hills and hollers of Calhoun County to embrace the game of football. West Virginia Sportswriter's Hall of Fame recipient Wayne Underwood (1913-1967) was a methodical student of football and he liked to win.

The field named in his honor along the banks of the Little Kanawha at Grantsville will be closed this week, moving to a new location at Calhoun Middle/High School near Mt. Zion.

"His training material was a piece of chalk and the concrete floor," recalled son Sidney Underwood. "We were way behind at the half with arch rival Spencer. He always seemed to know what to say and do. He walked into the dressing room and said 'We can win this game' and he got down on the floor and did his x's and o's. He had the knack and those guys went back out there and won that game," he said.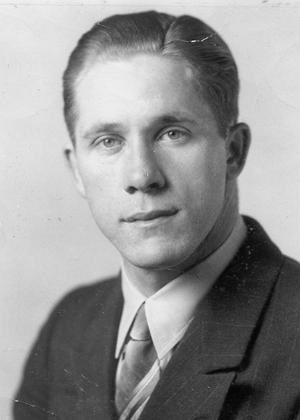 Wayne Underwood launches career at CHS in 1946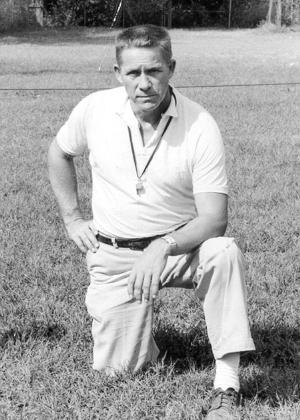 Wayne Underwood at CHS football field "The Quiet Man"
Underwood rarely raised his voice to his players. He knew how to motivate and inspire and was rewarded with respect. The Underwood story in the Calhoun History Book says "He instilled within those who came to play football for him not only pride in their successful teams, but also a pride in themselves. Many who came to him from unsophisticated and rural backgrounds left school with a pride which was of value in transforming them into polished and successful people in their later years."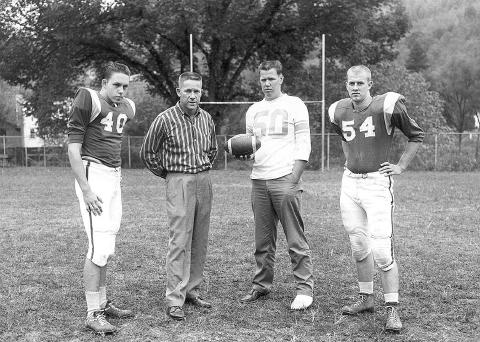 L to R: Sidney Underwood, Wayne Underwood,
Tom Hale, Kenneth Jarvis - Fall 1959
He was a student of football, developing two types of umbrella defense with his Calhoun team using it to win at least two years before the New York Giants made that defense a household word. He is remembered for using single wing back offense and sticking with it when the coaching world rushed to the T-formation. Underwood stuck with his intricate timing and variations, but eventually adopted a "winged T" of his own creation.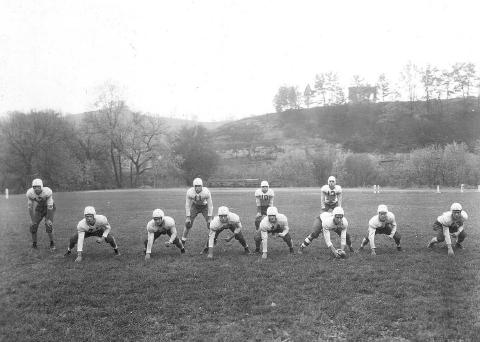 One of Calhoun's winning teams - About 1947
(Don Weaver, 2nd from right in front row)
"Lots of nights he would get of out bed and work on plays he was devising," said his son. His sixteen seasons, 125 wins, 33 losses and seven ties is an impressive record. His teams in 1948, 1950 and 1959 were undefeated. "They were always offering him deals to leave Calhoun, but we all liked it here."
"He had a great sense of his role as a coach. He was not their buddy. He was their coach," continued his son. "One time we came back into town and dad really needed cigarettes, but everything seemed closed. My mom suggested he go into the local beer parlor and purchase a pack. He declined, saying it might make him look bad in the eyes of his players."
In a world where most coaches vent their steam during games, Underwood was highly controlled and quiet, although you could feel his tenseness across the playing field. Sidney Underwood said he might have been better off if he "let it out" and not have smoked so many Camels.
Having been taken off the coaching line after a heart attack in the early 60's, he collapsed and died at his beloved Calhoun High in 1967 at age 53. Close by was his former player and coaching replacement Don Weaver, whose affection for the man is immeasurable. Weaver will recall his memories of Underwood at Friday's special ceremony closing the field.
From his early days with an undefeated Marshall College team, playing professional ball with Cincinnati and entrenching his football career in one of West Virginia's most rural counties, he rose to the top in the eyes of his players and fans to become one of the most winning football coaches in West Virginia.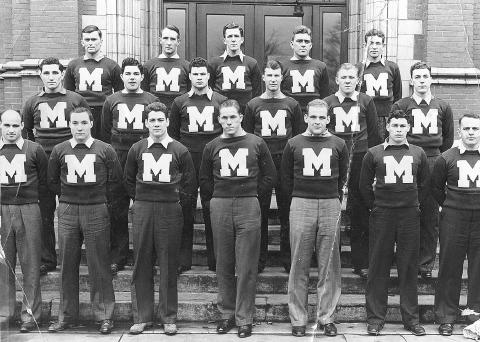 Undefeated Marshall Team - 1936 (Underwood 4th from left in front row)
At one time there was a major effort to schedule Calhoun's team with larger schools, to little avail. During one season there was a movement to have the Red Devils play a team from Mexico. It didn't happen. No coach was ever more respected among his contemporaries than Wayne Underwood, it has been said. His presence called for it.
Underwood came to Calhoun in 1945 as assistant coach to M. T. Hamrick. rising to the coaching position the following year. Born in Doddridge County, he married Marguerite Williams in 1939. His only child, Sidney was born in 1942 and still lives in Calhoun County.
After graduating from West Union High School he was recruited to play football for Davis and Elkins College. He followed his college coach Cam Henderson to Marshall College and earned Little All American Honors as a guard and played for Marshall's undefeated team in 1936.
Underwood then played professional ball for the original Cincinnati Bengals, Cleveland Rams and Nashville Rebels. He coached football and basketball at Logan and West Union High.
His coaching career at Calhoun was honored when he was inducted into the West Virginia Sportswriter's Hall of Fame in 1983. In 1987 he was inducted into Marshall University's Athletic Hall of Fame.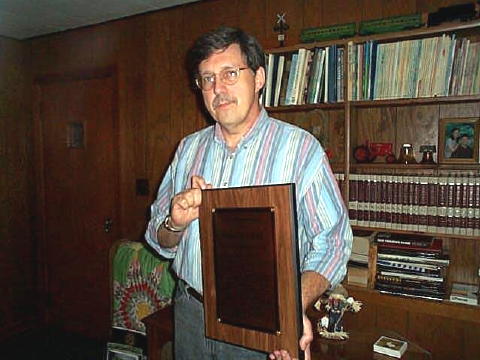 Sports Writer's Hall of Fame Award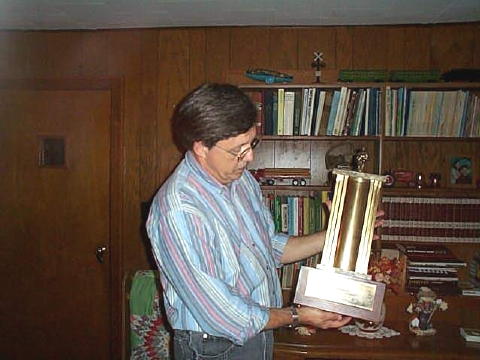 Sidney Underwood displays trophy recognizing dad's record
He will be best remembered, however, by the hundreds of boys whose lives he touched and the people of Calhoun County. The marker that dedicated the field to his memory simply says: "He was not a great man because he was a great coach. He was a great coach because he was a great man."
That verbal tribute was given by a former Underwood football player Dick Sturm, who later had an illustrious coaching career himself.