Azeline Hersman, 87, of Grantsville, Calhoun County, died Monday, October 27, 2003, after a brief illness.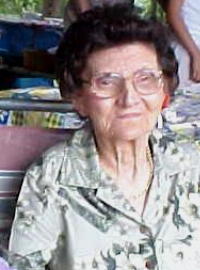 Born at Sycamore, Calhoun County, she was a daughter of the late Mallie and Florence Sturm. She was a member of the Mount Zion United Methodist Church.
Surviving are sons, Dean Hersman of Orma, Larry Hersman of Ripley and Terry Hersman of Cottageville; daughters, Dottie Slider, Kathy Wood and Becky Hall, all of Grantsville, Linda Shaffer of Shawnee, Kansas, and Janet Suddock of Olathe, Kansas; brother, Tom Sturm of Powells Point, N.C.; sisters, Elanore Boyles of Belpre and Bernice Hawkey of Grantsville; 18 grandchildren; and 11 great-grandchildren; two step grandchildren.
She was preceded in death by her husband, Emanuel G. Hersman; two brothers, Otho and Holden Sturm; and one sister, Margarete Morgan.
Funeral services will be 11 a.m. Saturday at Mount Zion United Methodist Church. The Rev. Rick Swearingen will officiate. Interment will be in Mount Zion Cemetery. Friends may call from 6-8 p.m. Friday at Stump Funeral Home, Grantsville.