One of the last remaining grand ladies of Grantsville has passed away.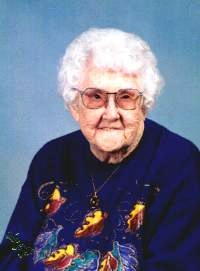 Ina N. Hannah, 97, died October 19, 2003, in her south Grantsville home in which she lived for 80 years. She was almost 98.
Ms. Hannah was raised at the farm home of her parents. Robert and Amanda Matthews Bennett, where Rush Run empties into Steer Creek, an area once known as Apple Farm. Her father was a well-known Calhoun citizen, who lived downstream from his father, prominent Gilmer County attorney Nelson Bennett.
She was a member of the First Baptist Church of Grantsville and the Fell Kennedy Sunday School Class. She was a charter member of Rebekah Lodge #52 of Grantsville for 69 years and was past District Deputy President of the American Legion Auxiliary with 67 years service. She was also a member of the Minnie Hamilton Health Care Center Auxiliary.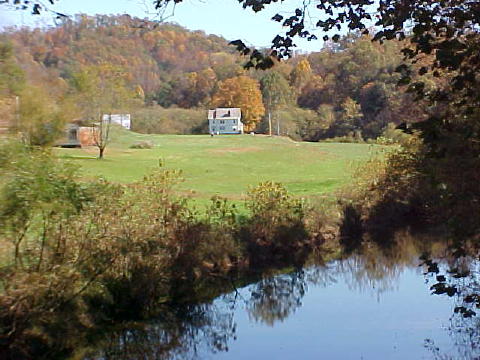 Looking up Steer Creek from the home-place place of Ina's youth is the still standing home of her grandfather, Nelson Bennett, a well-known Gilmer County attorney.
Funeral services are scheduled for 11 a.m. Friday at Stump Funeral Home in Grantsville. Joe Lancaster will officiate. Interment will be in the Bethlehem Cemetery. Friends may call at Stump's from 6-9 p.m. Thursday and one hour prior to the service Friday.
She is survived by a daughter, Edythe Johnson of Grantsville; sons, Argle Hannah and his wife Elsie of Vienna and Robert Hannah of Grantsville. Also surviving 7 grandchildren, 13 great-grandchildren and 10 great-great grandchildren.
She was preceded in death by her husband of 46 years, Clinton Hannah, a son-in-law George Johnson, a daughter Virginia Lee Hannah, a great-granddaughter Stacy Hannah, a grandson, Todd Hannah, and two sisters Lelah Vannoy and Oleta Bennett.