STONE WORKS AND STONE WALLS OF CALHOUN COUNTY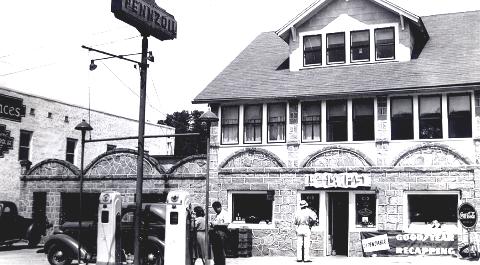 Albert and Gladys Weaver Stump's service station on
High Street, Grantsville, built by Spanish stonecutter
Janerio in early 1930s (Demolished)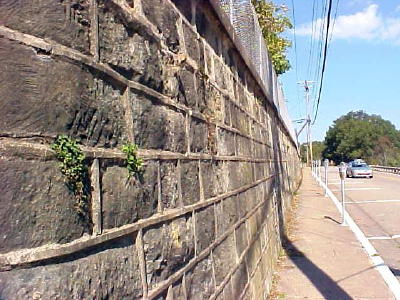 Large retaining wall on Grantsville's High Street (Rt. 16)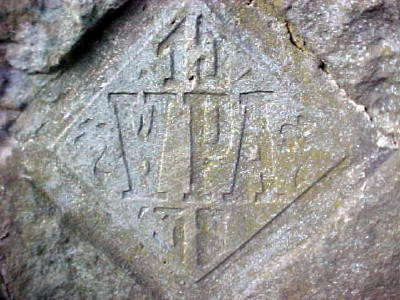 Insignia of depression area WPA workers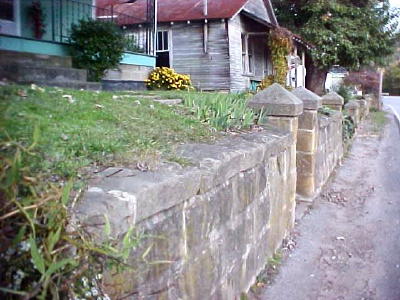 Stone wall runs through much of the Village of Arnoldsburg
By Bob Weaver October, 2003
Calhoun's stone walls reflect a time past when the country plunged into the Great Depression of the 1930s. It was the making of work by the WPA and the NYA and other government programs, that caused many of the walls to be built.
While China has its Great Wall from fifth century BC, Calhoun has rock walls from Big Bend, Grantsville and Russett to Mount Zion, Arnoldsburg and the Corder Bridge on the Roane line.
"There was no work during the depression," my dad, Gifford Weaver said. "And I mean no work." So he and many other Calhoun men were grateful to knapp rock into muddy roadways or help lay stone for rock walls and buildings.
Reflecting on the Calhoun projects, one must think about the hard labor and sweat it took to create them.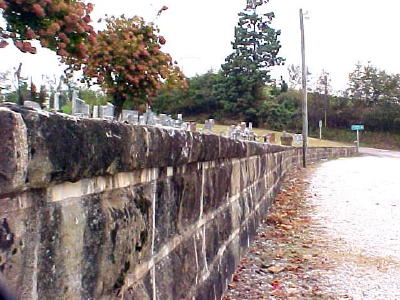 Wall along Mt. Zion Methodist Church Cemetery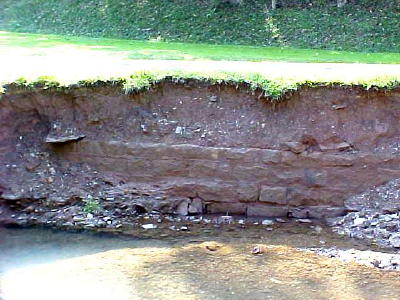 Newly discovered wall along Phillips Run, recently
exposed by flooding at Ronnie Erlewine residence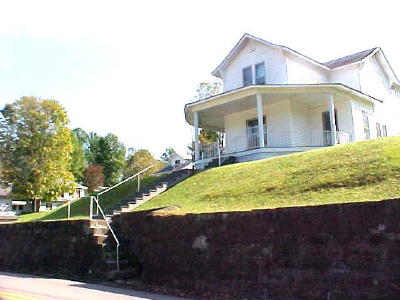 Wall and steps along Russett Rd., South Grantsville
Even primitive rock fences, stacked one rock at a time, can be found around the county. There are notable loose rock fences on the Husk Ridge by Husk families about 1900.
A Spanish man Joe R. Janerio came to Calhoun in 1930 and embarked on constructing stone walls and houses. He brought with him a Spanish speaking crew. Most of Grantsville's stone walls were constructed by Janerio, who sub-contracted the WPA projects.
His best work may be viewed at the old Albert and Gladys Weaver Stump service station and house at the foot of High Street, still in good repair (now down) , currently occupied by State Farm Insurance and others. He also built the Holbert House in Big Bend.
In 1936, stonemason Janerio was awarded sub-contracts for building a new bridge at Leafbank He also built an interesting 300 foot long, four by four foot culvert under the large fill on the east side of Nighcut Hill. Few notice the extent of the fill just beyond Cabot Station while driving down Route 5.
Janerio built or supervised the building of Grantsville's retaining walls on Main, High Street and south Grantsville with WPA workers assisting him.
The late historian and attorney, Lorentz Carr Hamilton, said the Janerio embarked on his stone construction as penance to his father for not becoming a priest. He died in the late '30s in a car accident in North Carolina.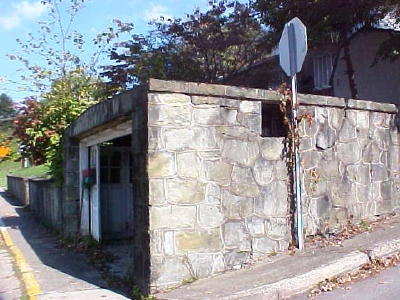 Garages were constructed for property owners in Grantsville (Rt. 5)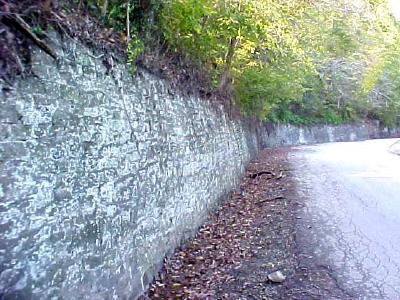 Rough rock wall still standing near the south
entrance to the old Grantsville Bridge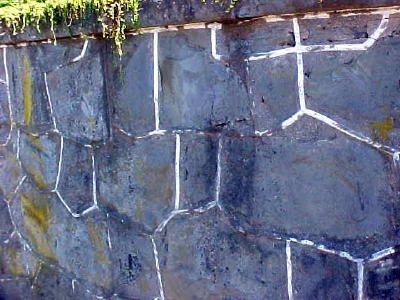 Special cut inlaid rock wall along Grantsville's Main Street (Rt. 5)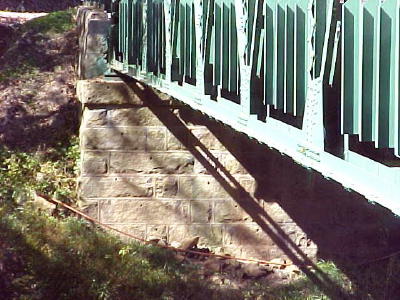 Stone pillars on Levi Barr Bridge (Rt. 7)
The depression era rock walls are standing the test of time, important additions to the landscape around the county.
Other stone works in the county are the handiwork of local stone masons, who built cellars and walls.
There are the stone-cut buildings in Grantsville, on which we have done earlier stories, including the Masonic Hall, the courthouse, the elementary and high school. Up river is the NYA building, an excellent example of stone masonry. Out at Mt. Zion, you can appreciate the State Highway Department building.
While historic-minded groups work to restore and preserve the old walls, others tear them down for purely selfish reasons.
I'm sure there are important lessons to be learned with walls, in view of the great wonders of the world still standing in Europe, Asia, Mexico and South America.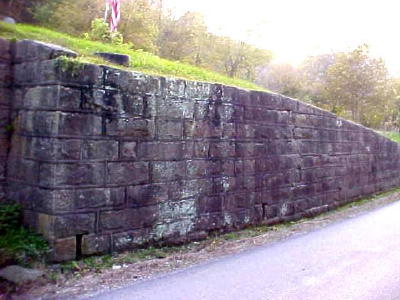 Stone wall at old John Barr House in Russett (Rt. 7)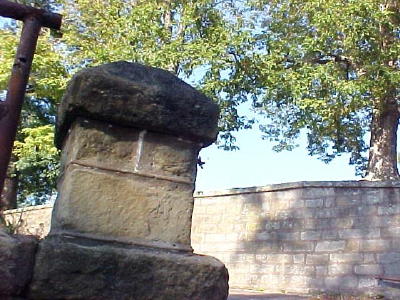 Pillars and walls at old Grantsville Grade School (Rt. 16)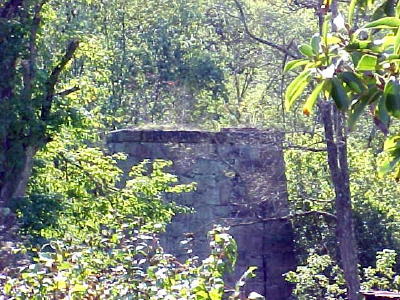 Stone pillar for Grantsville's first Little Kanawha River Bridge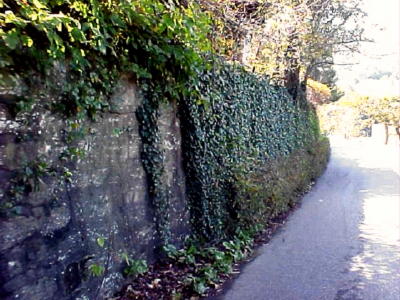 Vine covered stone wall behind old Calhoun County High School (Rt. 7)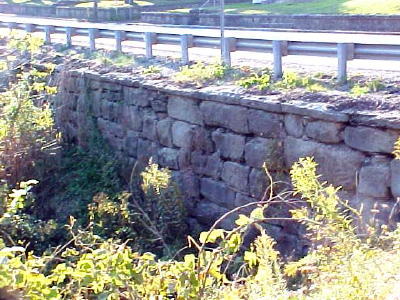 Retaining wall on steep hillside along Rt. 16, Grantsville