IN 2022 HARRY NEWELL HAS DIED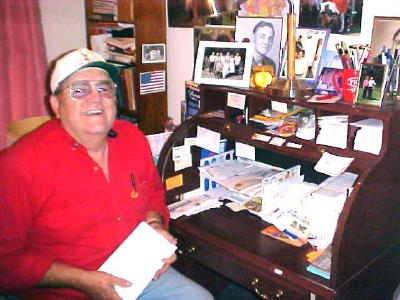 Harry in his special room
Poetry - Something to make us better and wiser by continually revealing those types of beauty and truth which God has set upon all men's souls - James Russell Lowell
Some verses are long, and some art short, Some for love and some for sport ... - Harry Newell
By Bob Weaver 2004
Harry Newell is a man of many interests - a poet, gardener, dowser, fisherman, hunter, tinkerer, who enjoys people, traveling and going to church. The Orma resident has been writing poetry for 50 years, and has published three books of his poems.
He is a man of great enthusiasm and interests, a small pep rally for livin' that rubs off if you're around him for a few minutes. Harry is really excited about life at the age of 71.
"This is the old Claude Jett place. I grew up right up that holler," he said. Harry's dad, Gerald Newell, Sr. died in 1999 at 102, and his mother, Maude Schartiger Newell died in 1967. He is one of seven children.
"I'm proud of my family and the people around me," he said. "They have given me so much." Not unlike many writers, his mind has steel-trap recall of what people said and did 50 years ago, which he can now string together as a storyteller and poet.
His spiritual life is reflected in his respect and nurturing for living things, from his animals to his fruit trees. "This is God's world," he said.
Harry has a thousand things he wants to tell you, not to impress you, but to help you understand the nature of things.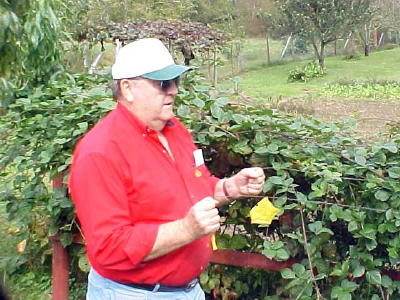 Harry practicing dowsing, around here known as "water witching"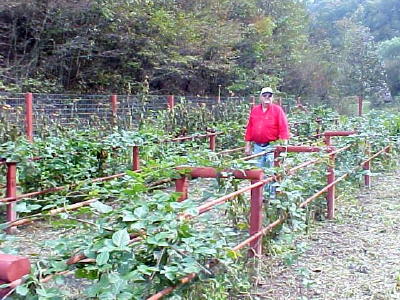 Harry has gardens, surrounded by berry patches and orchards
Last weekend, we had a water witching lesson from Harry in his side yard, next to his bountiful garden and orchard. "You must believe this works, for it does," he said, holding two wires in his hand and walking toward the head of a water well he witched a few years ago.
Nearing the well location, the wires began to tremble, and then crossed. "See there! Now you try it," he said. One theory is the dowsing instrument allows your subconscious to tap in to the wealth of information, although there are still skeptics.
We took the wires in hand, holding them loosely, we walked down the yard toward the well until they quivered and crossed.
"Now you are an official water witcher," he said.
Harry was a little reluctant to take us into his "special room." His wife Bess said it's a mess. It's a room filled with pictures, books, collections and remembrances, a place that looks just right for a poet. The disorder was appealing.
He attended the old Orma School and graduated from Calhoun High in 1951, then serving his country in the U. S. Army Medical Corps. "I only missed eleven days of work" at DuPont's Washington Works near Parkersburg, retiring after 28 years.
His first wife was a Calhoun teacher, Mary Chancey Newell. He has been married to Mae Bess Bailey (Helmick) since 1985.
Harry believes in "coming home," returning to his Calhoun roots in 1989.
He has just published his third book of poetry "A Step Back in Time," adding to his other works "Echoes from the West Virginia Hills" and "Piling Up Memories." His work has been published in several poetry anthologies. His poem "Momma's Old Rocker" was published in Good Old Days magazine.
Harry says there have been many rewards writing poetry about his life and the people who have crossed his path.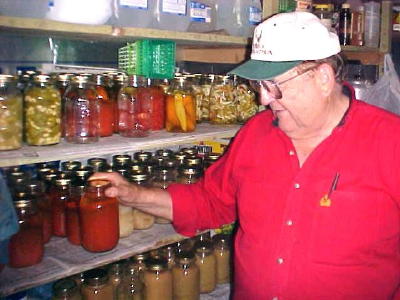 "Nothing like coming to the cellar and getting
pickled corn or beans and a little fruit"