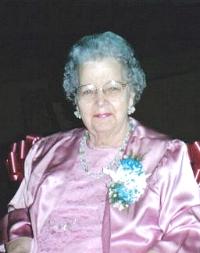 Delsie Erma Greathouse, 85, of Spencer, died Wednesday, October 8, 2003, in Roane General Hospital, Spencer.

She was born May 19, 1918, in Spencer, a daughter of the late Cecil Raymond and Laura Mae Wine Niday. She was a homemaker. She was a longtime active member of the Boggs Fork Community Church, where she served as church secretary and Sunday School teacher. She was also a member of the Boggs Fork Homemaker's Club and Farm Women's Club. She enjoyed reading, sewing, flower gardening and, especially, her grandchildren and great grandchildren.

Survivors include her husband, William W. "Bill" Greathouse, whom she married January 18, 1941; two daughters and sons-in-law, Karen and Bill Smith of Parkersburg, Peggy and Don Alvis of Spencer; grandchildren, Mrs. Robin (Tim) Utt of Parkersburg, Rev. Wade (Angie) Branard of Canton, OH, Mrs. Lisa (Dean) Hays of Mineral Wells, Miss Stacy Branard of Columbus, OH, Mrs. Tara (Ryan) Goldsmith of Washington; great grandchildren, Brooks and Ashleigh Utt, Brittany Branard, Nicole Hays and Kiley Goldsmith.

In addition to her parents, she was preceded in death by an infant son, William Kevin Greathouse; brother, Mr. Clell Niday; and sister, Mrs. Eupha Haverty.

A funeral service will be conducted Saturday, October 11 at 11:00 a.m. in the Boggs Fork Community Church with the Rev. Charles Davis and the Rev. Wade Branard officiating. Burial will be in the Short Cemetery, Spencer. Friends may call at the church from 6-8 p.m. on Friday.

John H. Taylor Funeral Home, Spencer, is in charge of arrangements.