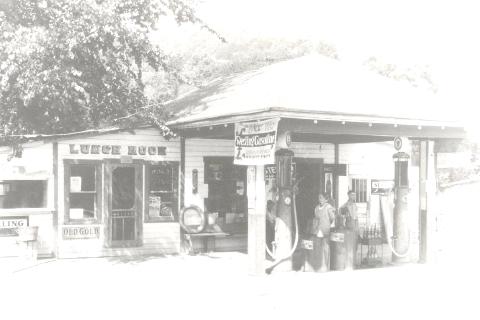 Longtime Calhoun merchant Uncle Amos and Virginia Craddock Gibson, stand in front of their service station, store and lunch room in south Grantsville. Circa late 1920's
The hand-pumped gas at Uncle Amos' garage cost 18 cents a gallon at his south Grantsville emporium, which once stood on what is now the south approach to the Grantsville bridge. It stood next to Garland's Grocery, remembered by a later generation.
Hot dogs, in the early 30's, cost five cents and hamburgers were ten cents.
Amos, the son of Confederate soldier George Gibson and Elizabeth Starcher Gibson, left the lower West Fork to work for the Cherry River Boom and Lumber Company in Richwood.
Returning to the county, he had stores at Cremo, Adam, Altizer and Grantsville.
Uncle Amos was a bible expert and had one of the first religious radio broadcasts on Spencer's new radio station in the early 60's. It was called "The Calhoun Bible Hour."
His son Willard was also a well-known merchant at the edge of Grantsville for many years, the building now owned by Hardman Supply.