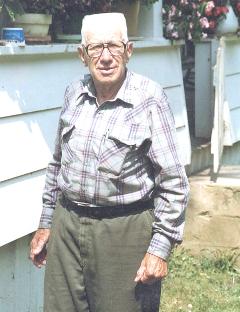 Long-time Creston resident and historian Seward Lynch, 96, has died.
Lynch passed away at Roane General Hospital on September 24, 2003.
He may be best known to Hur Herald readers for his collection of old river boat pictures that have appeared under Norma Knotts Shaffer's Photo of the Day, some of which are on the original archives CD.
Funeral services will be conducted Sunday at 2 p.m. at the Matheney-Pomroy Funeral Home in Elizabeth with the Rev. David Morris officiating. Burial will be in the Pleasant Hill Cemetery on Ground Hog.
Friends will be received at the funeral home from 6-9 p.m. Saturday and from 9 a.m. until time of service Sunday.
He was retired from Weaver Oil Company and was a welder and pipe fitter for local #565 of Parkersburg.
Surviving, sons, Robert and Rodney Lynch of Creston; eight grandchildren and 15 great-grandchildren.
He was preceded in death by his wife Mary Emma Blankenship; son, Randall, three brothers and two grandsons.