Well-known Calhoun fixture, trader Charles Edward Booher, 98, of Mt. Zion, died peacefully at his home in October, 2012.

CHARLEY BOOHER "RUNS OVER" 90 - Wanderlust On Bikes, Planes And Automobiles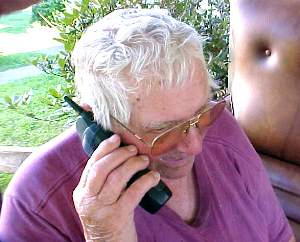 Charley Booher celebrates birthday
"He didn't turn 90, he ran over it."
By Bob Weaver
Republished from August 2003
Long before wanderlust was given names, Calhouner Charley Booher was traveling to Key West in a 1928 Model A Ford, exploring the back roads of America on motor bikes or flying over the rugged mountains in single-engine airplanes.
Charley, who turned 90 this week, has long been a free spirit to see what was happening around the bend. He is full of recollections about his adventurous life and fascinating tales about people and events during the last century.
Longtime friend Charles "Tap" Kerby was visiting Charley on his birthday. "Charley didn't turn 90, he ran over it," said Tap.
His keen mind defies recent problems he has faced. "Some of my family decided I was mentally incompetent and wanted me declared incapable. They kept hauling me downtown to those hygiene hearings," he said.
"They turned me loose, after giving me those tests!" he exclaimed. "They had the wrong guy."
He then rattled off his Social Security number, his military serial number and a dozen other details, exhibiting his mental abilities. "I've forgotten more than most people want to know," he said. After recalling names and stories about dozens of events, he asked "Do you think I've lost my senses?"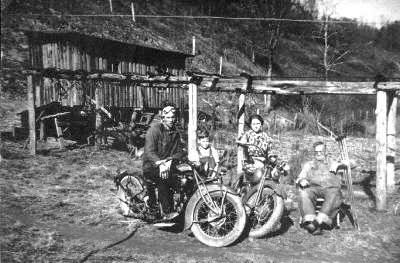 Down on Daniels Run (L to R) Charley Booher, brother,
Edward Booher(who later died in a motorbike accident)
his mother Ora Allen Booher and grandfather John J. Booher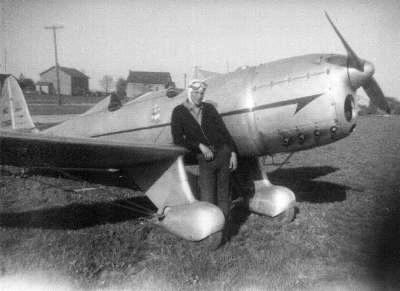 Pilot Charley, shown in front of "The kind of
plane they re-built for Lindbergh's flight"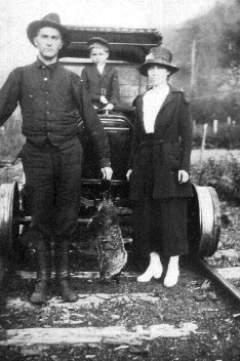 Uncle Luther Bullard with groundhog and little
Charley on early railroad "car" (woman unknown)
Charley fell in love with motorcycles long before he could drive one, having owned about a hundred of the machines over the years. "The greatest fun in my life has been travelin' on bikes, seeing unusual places and meetin' some interesting people." He can spin hours of bike adventures.
Charley owned several airplanes over the years. "I use to land one right below Russett in a field. There were times we'd barely clear the trees taking off," he said. Flying around the West Virginia mountains with few good landing places "required some skill."
He bought a 1928 Model A Ford from Boone Hathaway. "Wasn't much going on around here and we decided to drive to Key West (Florida) during the depression. The thing had a leaky radiator all the way down and we kept stopping to get horse poop to put in the holes."
"A good mix of horse manure and a few other things work like a charm, you know."
Charley said he and his buddy got stopped by the police at least eight times for vagrancy. "I always had a couple bucks to flash, and they'd let us go."
The Mt. Zion resident enjoyed his birthday with friends, doing what he does best - storytelling.