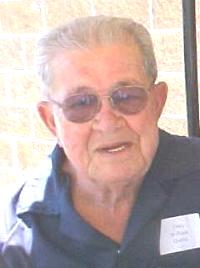 William D. Harris, 82, of Grantsville, West Virginia, died August 1, 2003 at his residence.

He was born July 22, 1921 in Calhoun County, son of the late Rev. C.D. and Glada Ritchie Harris. He was a member of Knotts Memorial United Methodist Church, where he served as superintendent for forty-six years. He was a member of Parkersburg's Nemesis Temple, Charleston's Scottish Rite of Freemasonry, Order of the Eastern Star and Eureka Lodge No. 40 of Grantsville.

Mr. Harris graduated Calhoun High School in 1941 and retired from the Calhoun County Board of Education where he worked as a custodian. He served on Grantsville's town council, was a Cub Scout leader, a softball pitcher and active in many civic organizations.

He is survived by his sons, Robert Harris of Parkersburg, WV and Larry Harris of Grantsville; his daughters, Judy Phares of Marietta, Ohio and Dorothy Kerby of Grantsville; daughters-in-law, Teresa Harris of Grantsville and Julia Ann Harris of Parkersburg; sons-in-law, Harold Phares of Marietta, and Wilbert Kerby of Grantsville; sister, Oleta Heiney of Ravenna, Ohio; granddaughters, Alice Harris, Debbie Williams, Rhonda Williams, Kelly Raines, Alissa and Casey Harris; great-grandchildren, Sammi Jo, Nick and Jordon, and a close friend, Wilma Gene Kerby.

He was preceded in death by one brother, Rev. Ray Harris; two sisters, Jaunita Waggoner and Leota Leggett; one daughter, Alice Marie Harris and his wife of 60 years, Ernestine Winfred Wilson Harris.

Funeral services will be held Tuesday, August 5 at 2 p.m. at Stump Funeral Home, Grantsville. Rev. Mary Zimmer will officiate. Visiting hours will be Monday evening from 6 to 9 p.m.. Burial with Masonic Graveside Rites will be in Bethlehem Cemetery near Grantsville.