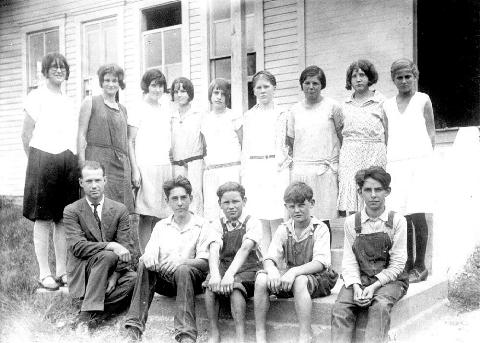 Russett School - Upper Room 1929-1930
First row, left to right: Corel Poling (teacher), Woodrow Crawford, Paul Robinson, Baxter Stump, Veon Crawford; Second row: Lowell Stump Wilson, Pearl Hupp, Eulanee Stump Hathaway, Olilee Robinson Knotts Moyer, Gladys Fowler Jarvis, Gladys Stump Jones, Leona Stump Kellar, Hettie Bower Shaffer, Mildred Burroughs Kendall Simpson Bates
Photo Courtesy of Edith Stump Smith
By Bob Weaver 2003
Several old-timers came together to celebrate their early school days in Calhoun this past weekend at two reunions.
Russett, Union (Snake Root), Upper Rush Run (Apple Farm), Lower Rush Run and Fairview schools had a their annual reunion at the Minney Park along Steer Creek.
The Union or Snake Root school was called "Union" because it was built on the Calhoun-Gilmer line for students from both areas.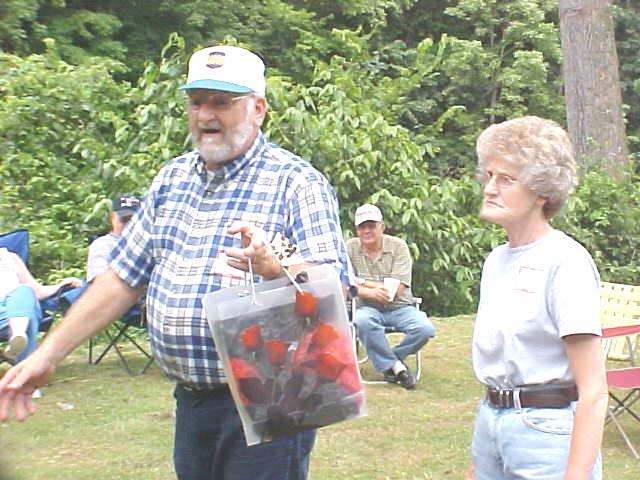 Minney Park one-room school reunion auction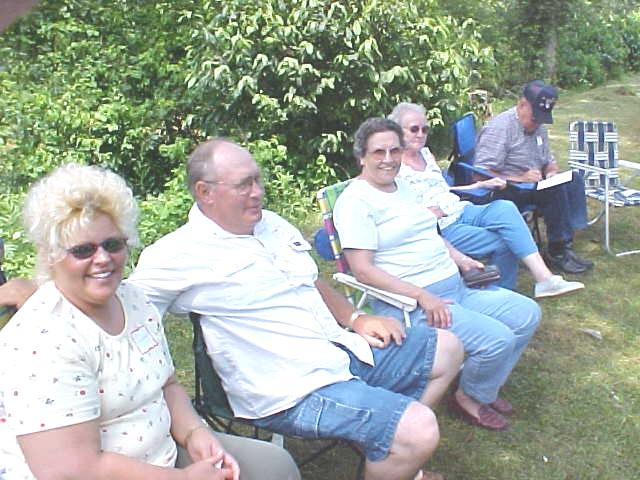 Relaxin' along Steer Creek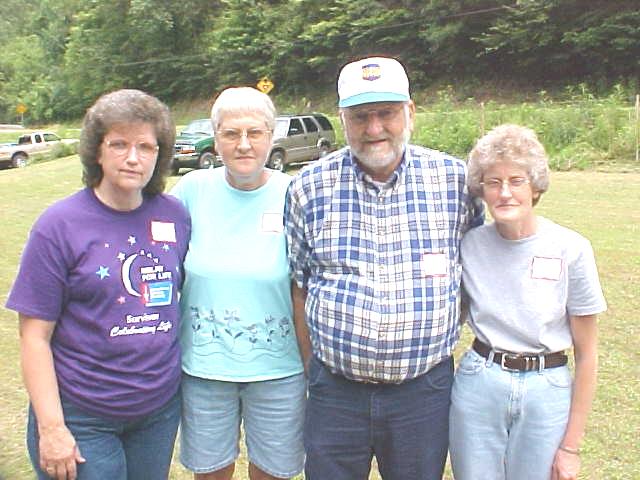 Harris family gospel group of 20 years (L to R) Connie Harris, Lou (Harris) Miller, Alva R. Harris, Sue (Harris) Morton
A first-time reunion of the Upper Trace and Lower Trace schools near the Calhoun-Gilmer line was held at Nobe.
Darrell Shock said he attended the Lower Rush school through third grade until it burned down. Shock recalled teacher Harley "One-Armed" Vannoy. "He had a hard time whipping the kids, holding them down," said Shock, who indicated he might have escaped the punishment himself. The Lower Rush School was close to the Rush Run bridge. "We'd walk over to the Mandy Bennett place with the bucket to get water."
Shock then went to the two room Russett School where one of his teachers, Lelah K. Ball, would give him ten cents to put chains on her 1939 Ford. Corel and Hanning Poling taught the upper grades during that time, he said.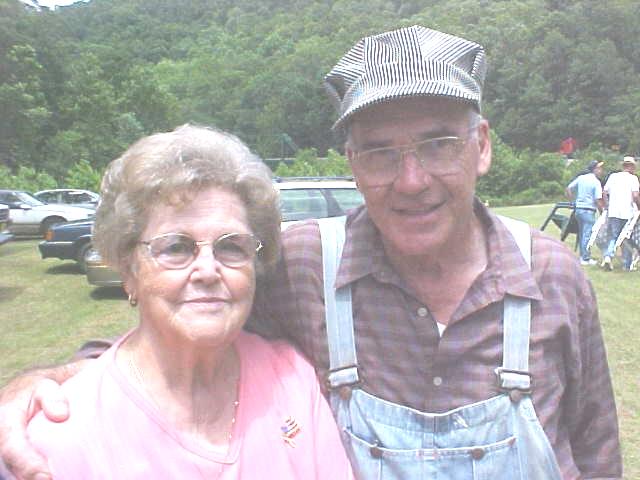 Osa Fowler and Darrell Shock from Lower Rush School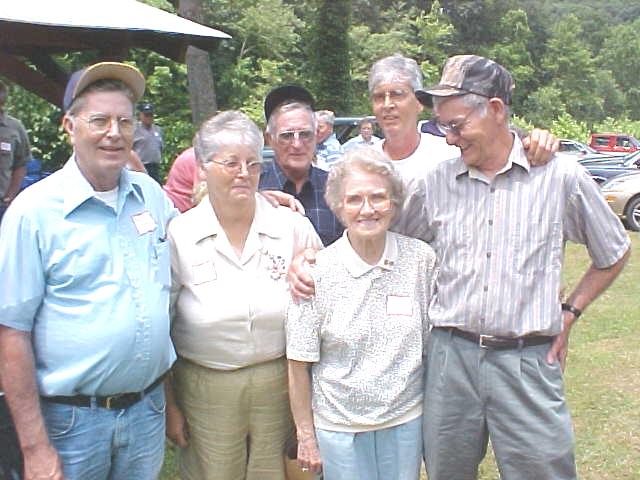 Bernice Stump with some of her pupils from Upper Rush School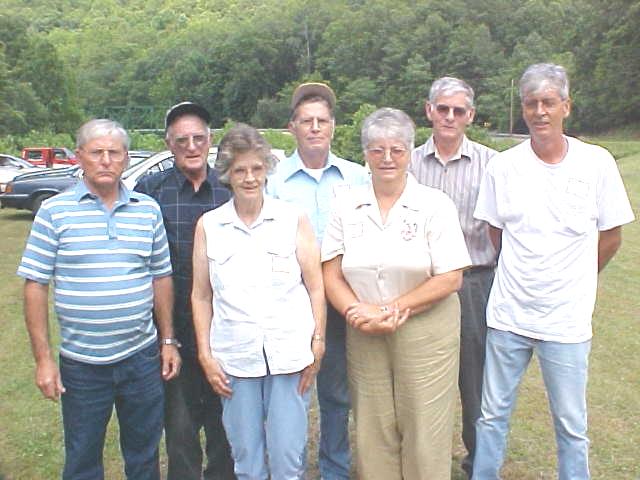 Settle Family, originally twelve (Front L-R) Idell Settle Goff and Aretta Settle Schoolcraft (Back L-R) Semour, Virgil, Ben, Charles and George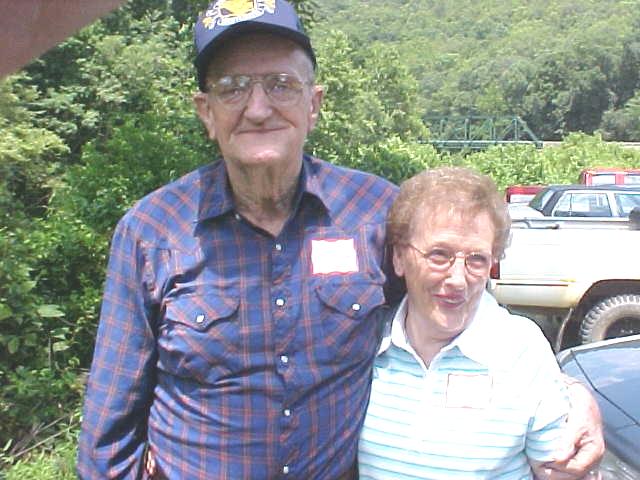 Rimer and Beverly Kendall attended Fairview School
Hoy Stump, Roy J. Stump's twin brother, drove the first school bus in the area. "It was an old army truck with a canvas over the top and some benches," said Shock. "Got pretty cold."
The second school reunion was a first-time event for the Upper and Lower Trace schools, which are in Gilmer County. Retired teacher Mae Weaver Jennings of Nobe said about 50 people attended the get-together at the Nobe Community Building. Jennings, who was recently recognized as a 50-year graduate of Glenville State College, taught at Upper Trace and was also a student there.
The Trace schools are located on Trace Fork, which empties into Tanner Creek, site of the Lower Trace school.
She recalled some of the early families attending the school, including Bush, Gainer, Ferguson, Weaver and Ellyson. Another teacher attending the reunion was Onidea Reed Nutter.
One-room schools were the bedrock of education in West Virginia since the late 1800s though the early part of the 20th century. They recall an intimate teacher-pupil relationship, with a single teacher for grades one through eight.
The school day started at 9 a.m. and concluded at 4 p.m. with fifteen minute recesses in the morning and afternoon, and a hour off for lunch.
Public education laws allowed a new school to be created for ten or more children in a community. That is why Calhoun had over 100 one-room schools in the early part of the 1900s.
Road improvements allowed for consolidation, which began in force after World War II. Many one room schools were closed before 1940, and the most went out of business in Calhoun before 1970.
Other one room school reunions held in Calhoun include Mt. Zion and Oka.