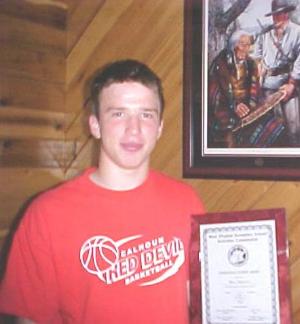 "Goob" Fitzwater honored with "Courageous Student Award"
By Bob Weaver 2003
It was a good day in Hur yesterday.
Two years ago "Goob" Fitzwater's life changed quickly, when a farm tractor rolled over and crushed him. His life was touch and go for several days as Rick and Melinda Fitzwater, their family and friends clung to his bedside.
This May, Ryan "Goob" Fitzwater was honored with the West Virginia Secondary School Activities Commission "Courageous Student Award," having done the hard work to return his life to normal.
Now active in football, basketball and golf, Goob has "exhibited courage by overcoming adversity," the award said.
Last year Goob said "I remember jumping from the tractor," while it was rolling backwards. He was putting up hay with his dad and brother in a remote area off Pine Creek Road near the Village of Hur. "I remember thinking I might die," he recalled. He didn't remember his dad and brother pushing the tractor away from his crushed body. "Things went black."
Brother Michael, then a Calhoun High football player, used his running skills in a way few are called to do. He ran top speed around the woodlands ridge to call an ambulance. EMS member Mike Little said "We knew it was a critical call. It had that sound" and timelines were critical.
Rick Fitzwater placed his son in the bucket of a tractor, bringing him to the main road while Goob was losing most of his blood supply from two traumatic wounds. He also had internal injuries.
"It seemed like everything fell into place to save him," said Rick. The ambulance was there within minutes, trauma care was given and the connection to the HealthNet chopper was right on schedule. He arrived in short order at the trauma unit at Charleston Area Medical Center.
Goob said he was grateful to his family and neighbors. "I didn't know how bad it was until I got home, and my friends told me," he said.
His recovery was not always easy, but Goob has what it takes to make it," said Rick.
Rick has spoken about Goob's triumphant first walk and his brother's heroics, and his thanks to the Lord for the blessing of Goob's recovery. He expressed grateful thoughts toward his family, neighbors and friends.
In this tiny chunk of the world we call Hur, neighbors fell to their knees in the middle of the road on that July 2nd and prayed for Goob to survive this ordeal.
Calhoun people responded, lifting prayers and helping in many ways, and people across America, in great numbers, joined in spiritual support.
So, you must understand why this day will always be special day for the Fitzwaters.