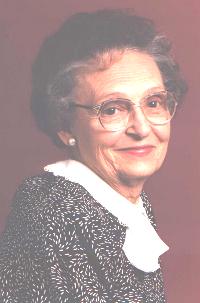 Rhoda Maude Whitlock Moss, 81, of Parkersburg, West Virginia, died Wednesday, June 25, 2003, in St. Joseph's Hospital, Parkersburg, after an extended illness.

She was born February 25, 1922 at Carl, Nicholas County, a daughter of the late Perry W. and Orpha Mae Haynes Whitlock. Mrs. Moss retired in 1986, as a social worker for the WV Department of Health and Human Resources. She was a graduate of the Charleston Business College. She was a member of the Mill Creek Baptist Church, Frozen Camp, where she was active in missions work. Also, she attended the Vienna Baptist Church, Vienna and the Rockport Full Gospel Church, Rockport. She was a member of the Wetzel Chapter No. 27, Order of the Eastern Star, Spencer.

Survivors include three daughters and sons-in-law, Nancy and Larry Conant of Belleville, Lydia and Roger Crislip of Gandeeville, Margaret L. and Bob Bee of Lansing, Michigan; three sons and daughters-in-law, Ronald Michael and Sandy Moss of Cypress, Texas, Woodrow W. and Debbie Moss, Jr of Walker, Floyd H. and Mary Moss of Ripley; sister, Lura Mae Grose of Walla Walla, Washington; two brothers, Leonard Whitlock of Rainelle and Brooks Whitlock of Apple Valley, Cailfornia; ten grandchildren and 17 great-grandchildren.

In addition to her parents, she was preceded in death by her husband, Woodrow W. Moss, Sr. October 2, 1971; a brother, Alvin Whitlock; a brother and sister, who died during childbirth.

The funeral service will be conducted Monday, June 30 at 1:00 p.m. in the John H. Taylor Funeral Home, Spencer, WV with the Rev. Everett Snyder and the Rev. Bob Keen officiating. Burial will be in the Mt. Zion Cemetery, Gay, WV. Friends may call at the funeral home from 2 to 8 p.m. on Sunday, June 29.

Memorial contributions may be made to the W.Va. Chapter Alzheimer's Association, 508-A Columbia Ave., Williamstown, WV 26187.

Cards of condolence may be mailed to Nancy Conant, Route 1, Box 89, Belleville, WV 26133.