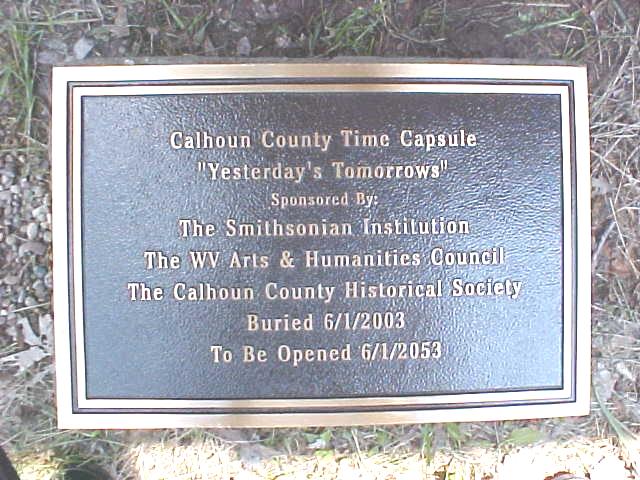 Plaque at site of Time Capsule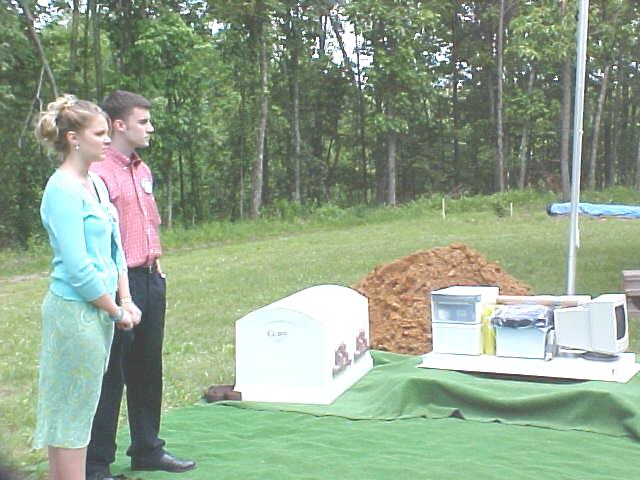 Tia Satterfield and Matthew Bonar
2003
It is hopeful that Matthew Bonar and Tia Satterfield will return to Calhoun County Park 50 years hence on June 1, 2053 to participate in the opening of the Time Capsule buried yesterday. The 17-year-old seniors, members of the Student Council at CHS, would be 67-years-old.
Bonar and Satterfield joined a number of other Calhoun citizens in the special ceremony, placing dozens of items in the capsule that represent life in Calhoun County in 2003.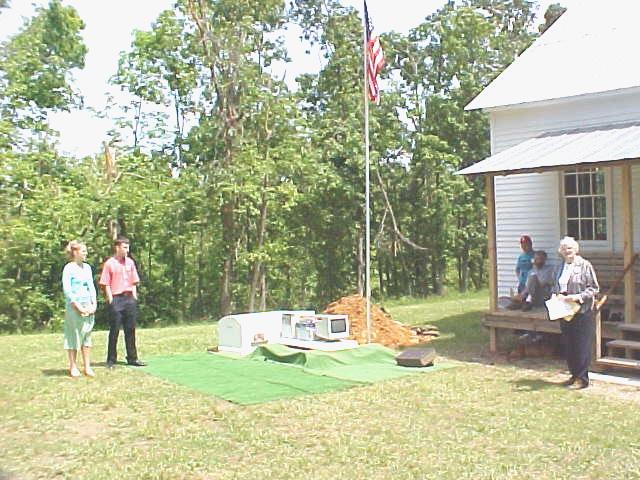 Rev. Peig Schmitz offers prayer for future generations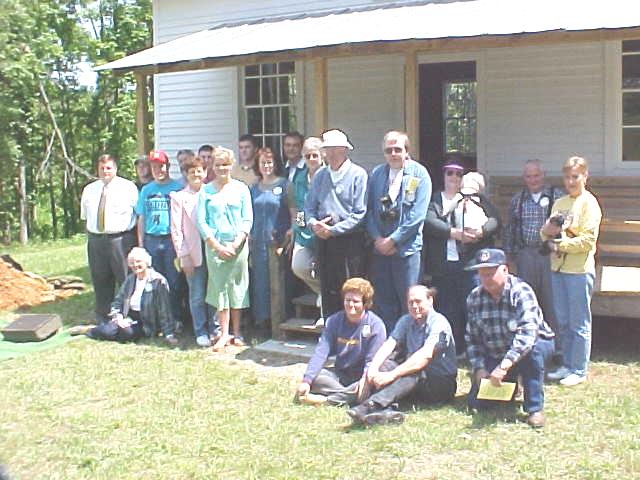 The group attending burial of capsule in front of Stevens one-room school
The capsule was buried near the restored Stevens School, an ongoing project of the Calhoun Historical Society to develop a historical village.
Bob Weaver, President of the Calhoun Commission, welcomed those attending, saying "It would be nice to be around when the capsule is opened, to see what people say" about the objects.
Neil Stump of the Stump Funeral Home closed the vault for burial, and those in attendance shoveled dirt over the capsule.
Carefully packed objects placed in the vault, included athletic shoes, bottled water, battery scissors, cell phone, compact disc, curling iron, desktop computer, electric shaver, electric toothbrush, phone directory, and portable phone.
A CD of music with eleven current hits compiled by Tia Satterfield and Laura Pfeffer.
Other items and groups donating items are: Boy Scout Troop #39, Burrows family history, Calhoun County EMS, Calhoun County FRN, CHS football program, Car cap and book from Bob Yoak Ford, coffee mug, county park history, directory of county services, Domestic Abuse Response Team, Follies 2003 program, Foodland receipts and prices, Gilmer Review, Grantsville Lions Club, Grantsville VFD photo, Heartwood in the Hills, History of Calhoun, Homestead Realty and the Hur Herald.
J&B 55th anniversary pen, Jake Krack CD, Knotts Memorial Church, Koffee Kup menu, Library activities, Lights On!, Map of Calhoun, Larry McCallister drawings, Minnie Hamilton Health Care Center photo, National Geographic magazine, Newspaper with "WAR" headline, Gulf War, Relay for Life, SCAT/RAZE DVD, school yearbooks, Seventeen magazine, Smith Service Center, Smithsonian Traveling Poster, the Calhoun Chronicle, War information, Wholesale gasoline prices Cha-Tis, Writer's Guild history and WVU Alumni.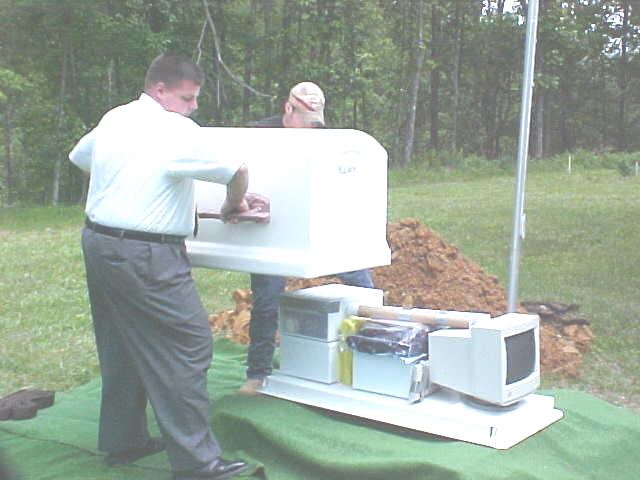 Funeral Director Neil Stump caps the vault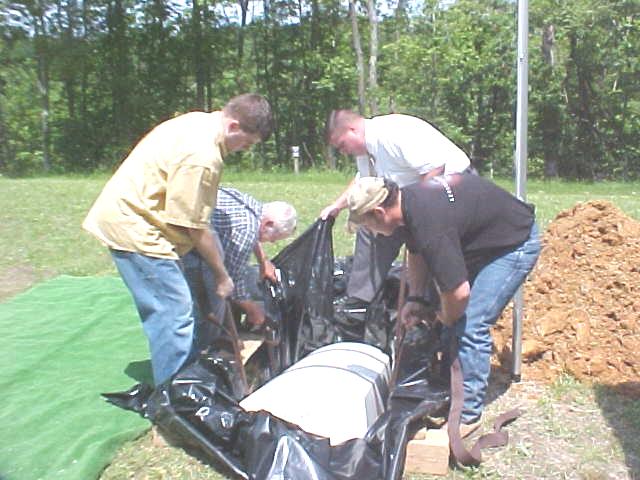 The capsule is lowered into the ground, waiting for 2053
The Time Capsule was sponsored by the Calhoun County Historical Society, the Smithsonian Institution, the West Virginia Humanities Council and Lights On!
The Time Capsule Committee included Calhoun High School students:
Seniors, Matthew Bonar and Tia Satterfield; Juniors, Jacob McCumbers and Kelley Sampson; Sophomores, Kyerstan Garrett and Janette Starcher; Freshman, Tommy Gerwig and Kara Sears; Robert Bonar, Historical Society President; Roger Jarvis, Historical Society member; Bev Morford, teacher; Rick Sampson, Commissioner and the Rev. Peig Schmitz.