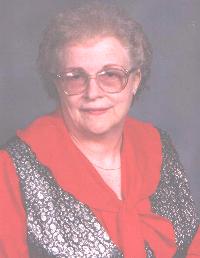 Ethel "Lil" Sallie, 85, of Parkersburg, formerly of Spencer, West Virginia, died Monday, May 26, 2003, at Camden-Clark Memorial Hospital, Parkersburg, after an extended illness.

She was born Oct. 27, 1917, in Cannonsburg, Kentucky, a daughter of the late George and Rosa Stewart Adkins. She was a former employee of Kellwood Corporation, Spencer. Mrs. Sallie was a member of the Wetzel Chapter No. 27 Order of the Eastern Star and the Roane General Hospital Auxiliary. She was a Christian and attended the Bethel Baptist Church, Parkersburg. She formerly attended Peniel United Methodist Church, Peniel.

Survivors include a daughter and son-in-law, Geraldine "Beanie" and Darrell Smith of Parkersburg; sons and daughter-in-law, J.L. Sallie Jr. of Sandyville and Phillip and Donna Sallie of Crown Point, Indiana.; two sisters, Virginia Davis of Arizona and Evelyn Pennington of Raceland, Kentucky; 11 grandchildren, Cheryl Wingrove, Beverly Morgan, Denise Hoover, Davis Smith, Brent Smith, Patricia Holbert, Barbara Clelland, Jim Sallie, Pam Wallace, Richard Sallie and Jan Miller; 18 great-grandchildren; one great-great-grandchild; and several nieces and nephews.

In addition to her parents, she was preceded in death by her husband, J.L. Sallie Sr.; one daughter-in-law, Evelyn R. Sallie; one sister, Della; and five brothers, Denny, John D., Amos, Cecil and George.

A funeral service will be held at 1 p.m. Friday at Sunset Memorial Funeral Home, Parkersburg, with the Rev. Randall Kochersperger officiating. Burial will be in Sunset Memorial Gardens. Friends may call from 6 to 8 p.m. Wednesday at the John H. Taylor Funeral Home, Spencer, and from 4 to 9 p.m. Thursday at Sunset Memorial Funeral Home.