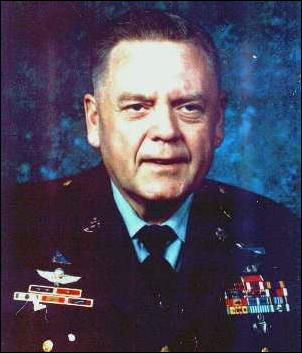 By Bob Weaver
There have been numerous Calhoun military heroes in the great wars of the nation.
Today we honor the late Command Sergeant Major Clovis Drexel Ice, who was inducted into the U. S. Army Military Intelligence Hall of Fame in 1988. He retired from the army after 26 years, and then worked for the Veteran's Administration.
Ice received the Legion of Merit award from the U. S. Congress in 1977 for "performance of exceptionally meritorious service during his 26 years of faithful and honorable service."
He was recognized more specifically for his work with U. S. Army intelligence, and a highway and museum is named in his honor at Ft. Huachuca, Arizona.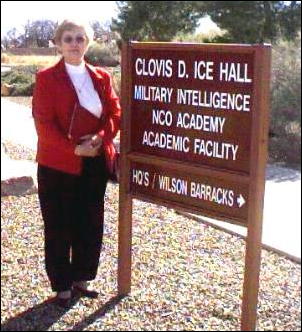 Paula Roberts (pictured) and Denver Roberts recently visited Ice Museum
Ice received dozens of awards, recognitions and badges, including the Bronze Star (Fourth Oak Leaf Cluster), Meritorious Service Medal (First Oak Lead Cluster), Air Medal, Army Commendation Medal (Three Oak Leaf Clusters), Army of Occupation Medal, National Defense Service Medal, Korean Service Medal with Four Bronze Stars, United Nations Service Medal, and many more.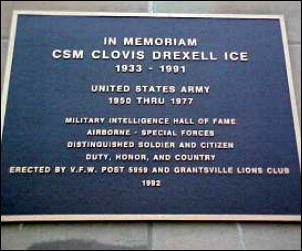 A plaque in his honor on front of the Calhoun County Courthouse
Sgt. Major Ice displayed distinguished performance in his duty throughout his military career.
He was the son of Walter Forest Ice and Alma Schartiger Ice, Alma later married Obert Fowler. Drexel Ice married Sherron Lea Fowler.