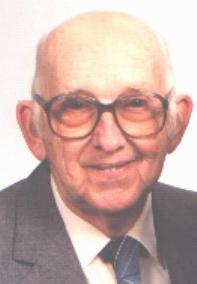 Gene F. Elmore, Sr., local historian and genealogist, died Friday, May 9, 2003, in Welcome Home Care, Spencer.

He was born August 14, 1910, at Tariff, Roane County, a son of the late Jacob Ott and Mary Jane Looney Elmore.

In addition to his parents, he was preceded in death by a son, Gene F. Elmore, Jr.; three brothers, Joseph Otmer, Paul and Earle; one sister, Ula Maxine.

Survivors include his wife, Virginia Hunt Elmore, whom he married May 17, 1935; two daughters, Sondra Leigh Reger of Finksburg, MD and Virginia Lynn Vine of Pawleys Island, SC; one sister, Mary Louise Rardon of Indianapolis, IN; five grandchildren and four great grandchildren, several nieces and nephews.

Mr. Elmore was a 50 year member of the Linden Lodge No. 83 A.F. & A.M., Linden and the Wetzel Chapter No. 27, Order of the Eastern Star, Spencer.

Mr. Elmore was graduated from Spencer High School in 1932 and was a member of the Harmony Boys local singing group. He attended Glenville State College and West Virginia University where he majored in journalism, joined Kappa Delta Psi, and was a member of the marching band and the ROTC.

Mr. Elmore worked with the CCC throughout WV. He took many photographs of this work, which have been combined into a book. He joined the Navy during WW II and trained at the Great Lakes facility. He then served at Corpus Christi, TX, as an artc/3c and attended Houston University. He was a member of the local amateur radio club. He was also a member of the American Legion Post 21, Spencer.

Mr. Elmore was employed as an Internal Revenue Agent from the Charleston-Ripley-Parkersburg region. After his retirement, he worked for a time with Hays and Company, Spencer.

Mr. Elmore has researched many branches of his and his wife's families and has generously shared this information with others throughout the United States. He was also a member of the Roane County Historical Society.

A funeral service will be conducted Monday, May 12 at 2 p.m. in the John H. Taylor Funeral Home, Spencer, with the Rev. J. Herbert Smith and the Rev. Lester Walker officiating. Burial with Masonic graveside rites will be in the Clover Cemetery, Clover. Friends may call at the funeral home on Sunday, May 11 from 2- to 4 and 6 to 8 p.m.

In lieu of flowers, contributions may be made to the Roane General Hospital Auxiliary.