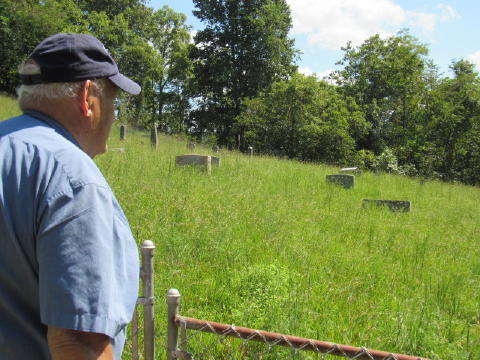 90-year-old Allen Nicholas visits one of Walker
Creek's dozen cemeteries, the Lamb Cemetery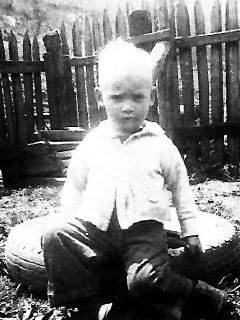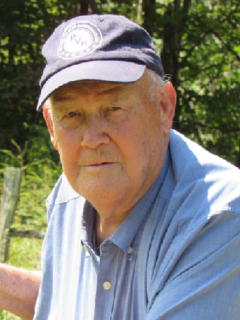 Nicholas shown above as he looked at six years old
on Walker Creek, and as distinguished as he is today
By Bob Weaver Sept. 2022
Allen Nicholas, almost 91, likely had a demeaning title - "funeral home flunky," while delivering ambulance and funeral services to Roane and Calhoun County for over 50 years.
His duty and performance rose above his title.
During the 1960s and 1970s, when funeral homes provided ambulance service, he was the driver or attendant on over 1,000 calls annually provided by the Sinnett (later Sinnett-Weaver) Funeral Home of Spencer.
He delivered care to the birthing, traumatized and sick and continued his funeral duties at the John H. Taylor Funeral Home, assisting with thousands of funeral services.
During those early years, much of the ambulance service was on rough, crooked and backwoods roads.
"We prided ourselves for the fast, quick emergency service, around the clock," Nicholas said, a million miles without an accident, sometimes at high speeds with red lights flashing and sirens wailing." Sinnett Funeral Home always used the world's most powerful mobile sirens, the Federal Q. You could hear it a half-mile down the road.
"Those thousands of calls have left me with a world of memories, many facing their life and death," he said. Nicholas was more than dutiful, always responding.
Nicholas grew up in the remote backwoods of Walker Creek, Calhoun County in the 1930s-1940s, recalling in finite detail about their life and times, and attending large funerals at houses and churches, with burials in 12 Walker Creek cemeteries in Calhoun and Clay County.
"When people got sick, we'd go sit with them, when they were dying we'd sit by their side til their last breath," the funeral usually being a four day event. He served in the US Army.
Nicholas, on a recent trip to Walker Creek, visited most of the valley's cemeteries to pay his respect, Lamb, Jarvis, Sears, Anderson, King, Ellison, Yost, May, Moss, Matheney Ridge and Hicks.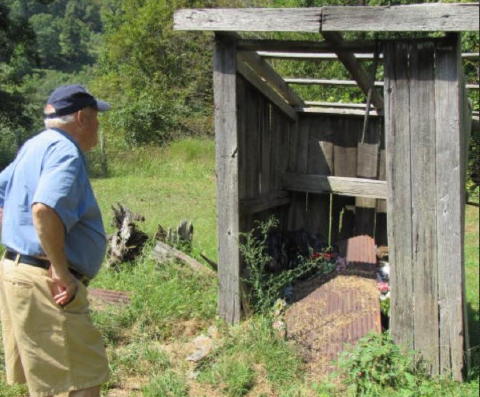 Nicholas said, "Can you believe there are a number of outhouses
from the 1930s still erect on Walker Creek, and a few old houses"
Such occasions could have sparked his interest in applying for a job at Sinnett Funeral Home in 1962.
"Life was tough, but most on Walker Creek had a good survival gene. Like most, we were poor, but didn't know better, all in the same boat," he said.
His family lived at four different locations on the creek with an outhouse. "But we finally got a house with free gas and raised huge gardens" He attended one room schools at Floe and Douglas, recalling the Bert Vaughan family at Douglas, memorialized in a 1954 story in National Geographic, Vaughan delivering mail on a horse from Chloe to Elmira. At one time, post offices and stores at Douglas and Floe.
See   MAILMAN BERT VAUGHAN AND HIS U. S. MULE - National Geographic Walnut-Walker, Republished From 1954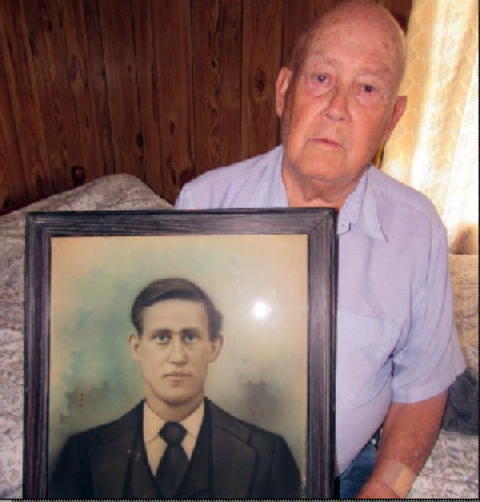 Nicholas with his father's picture, George Henry Nicholas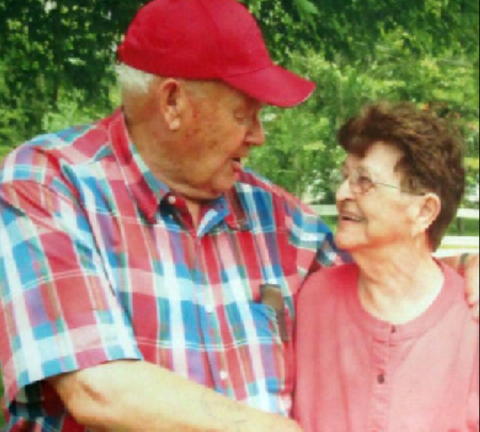 Nicholas with his late wife of 56 years, Ora Thorne
Nicholas, spending most of their life in Spencer
Allen Nicholas was the son of George Henry and Lula Butler Nicholas, having two brothers and two sisters. He married Ora Thorne of Ivydale in 1962, married 56 years before her passing in 2018, having two sons and a daughter.
"It was a wonderful one day trip to the Wilds of Walker Creek, and visiting with a few folks from earlier times," he concluded.