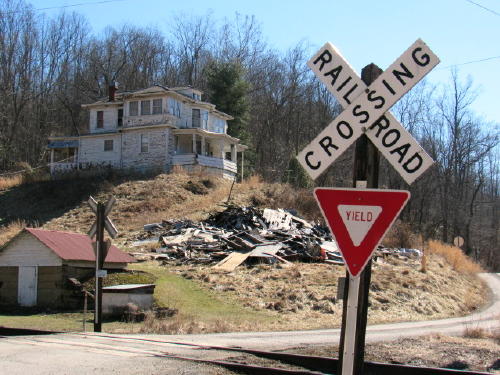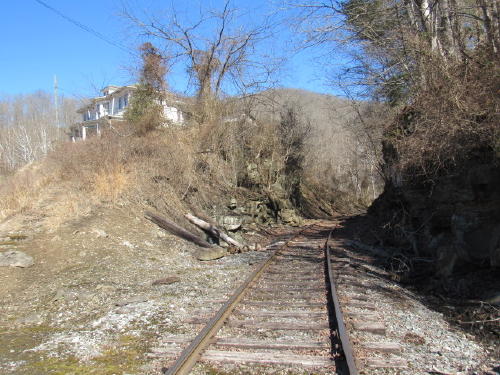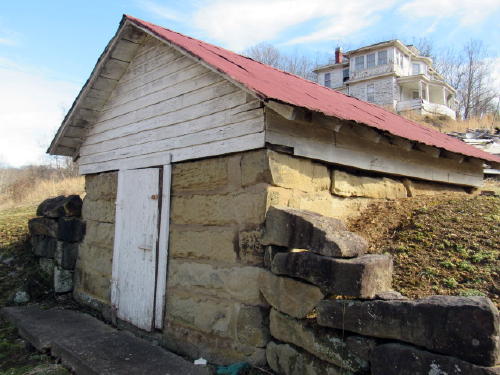 Railroad tracks slightly ventured into Gilmer County at Gilmer
Station, once a thriving coal and business town, shown above are
Roscoe Addison Darnell manor house and last company house collapsed
By Bob Weaver 2022
Gilmer Station (Gilmer County WV), along State Rt. 5 and the Little Kanawha River with a post office, which opened on November 28, 1905, and closed on November 2, 2002, with stores, mills, and a blacksmith shop.
It once was a busy town bolstered by the arrival of a railroad in the early 1900s and coal production in the nearby town of Bower, booming operations.
Even Little Kanawha riverboats, at times, were able to reach Gilmer Station in the early 1900s.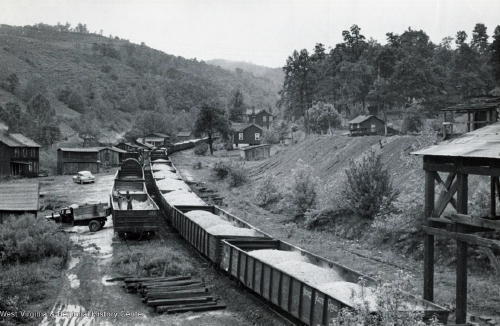 Historic Gilmer Station in the 1940s, before fading
Both Gilmer Station and Bower are ghost towns, with a few remnants of the past. The portion in Braxton and Gilmer Counties was called the "Coal & Coke Coalfield," presumably because the Coal & Coke Railway served the mines there.
Roscoe Addison Darnall came to Gilmer Station in 1906 from French Creek, Upshur County, where he was born, March 17,1884, son of Robert A. Darnall and Malinda Rexroad Darnall.
He was Station Agent and Telegraph Operator for the Coal and Coke railroad which was the only point in Gilmer County touched by a railroad, later becoming the B&O Railroad.
In 1909 and 1910, Mr. Darnall served as postmaster and entered the mercantile business in 1911. The same year, he opened a feed store in partnership with his brother, Porter.
Darnall was married in 1916 to Myrtle Starling of Runa, West Virginia, who came to Gilmer as a school teacher. In 1917, Mr. Darnall entered into the coal business. The firm became known as Gilmer Fuel Company.
In 1921, Mr. N.J. Amick became a partner in the mercantile business with Darnall, a partnership that lasted for 43 years. The two men were also partners in the automobile business from 1930 to 1940.
From 1930 to 1940, Darnall expanded his coal operations with an office and coal-yard in Baltimore, Maryland, serving thirteen eastern states.
Darnall and his associates, Porter A. Darnall, Ruth Steele Darnall, and N.J. Amick. were instrumental in initiating action which led to paving of the road from Glenville to Gilmer Station. with the only access to the east and south by rail.
During those years, Darnall became an extensive land owner, active in church, civic affairs and politics. He also became a member of Masonic Lodge and Burnsville Chapter Order of Eastern Star.
Mr. and Mrs. Darnall enjoyed traveling in this country and abroad. Darnall, at 92, was still managing the holdings before his death in February 1983, at the age of 98.
The nearby Town of Bower was also a bustling coal operation with few markers to identify its glory days. A post office called Bower was established in 1906, and remained in operation until 1941. The community had the name of Henry Bower, a railroad official.
Most years the workers were paid with coined chips or "script," which they had to use as the company store.
Bower had a community building, lodges, movie house, stores and company houses, all gone.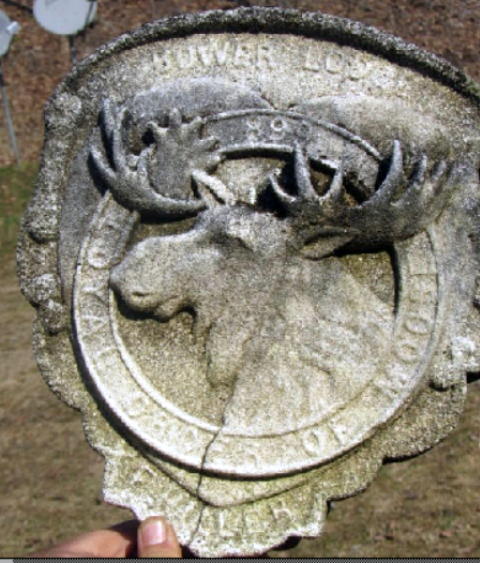 Found in the dirt in Bower was this orn-
ate emblem from the Bower Moose Lodge
Also nearby was another coal town, Copen, which is still a rural community, the home of mountain music maker Melvin Wine.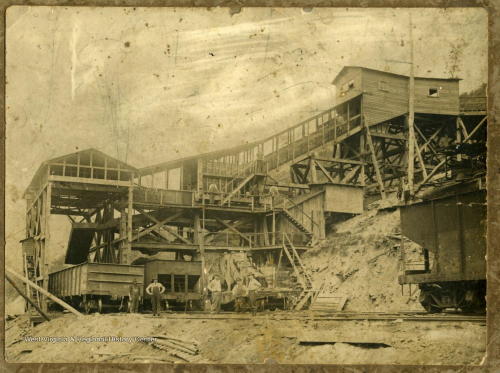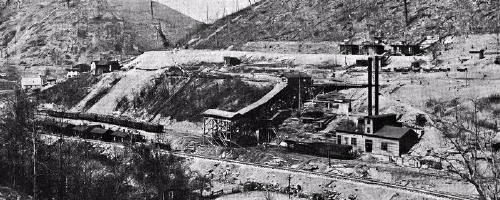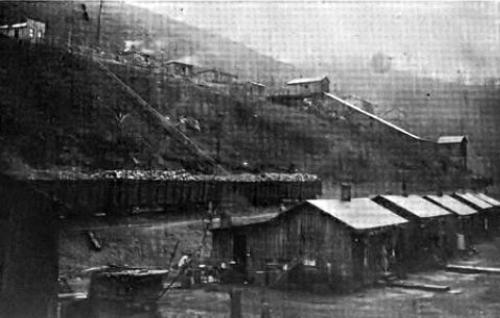 The Bower company operations employed a large
number of miners, some housed in makeshift shacks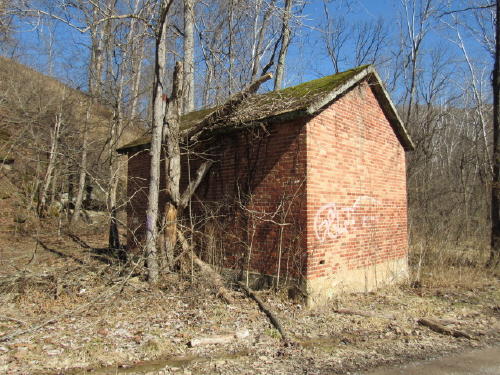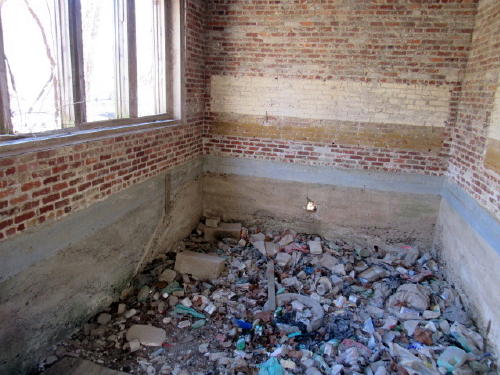 The last remaining building in Bower is the operations ice house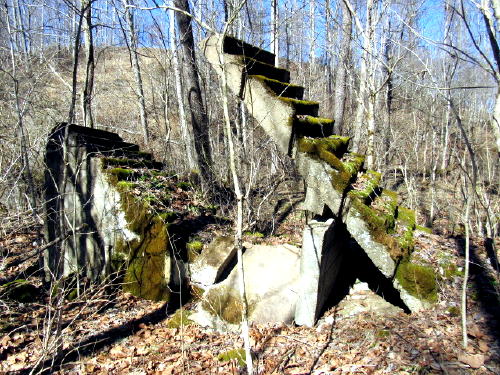 Steps to nowhere are remaining historical markers in Bower
Copen resident Richard Godfrey stands in wooded Bower Ceme-
tery where many early workers and their families are buried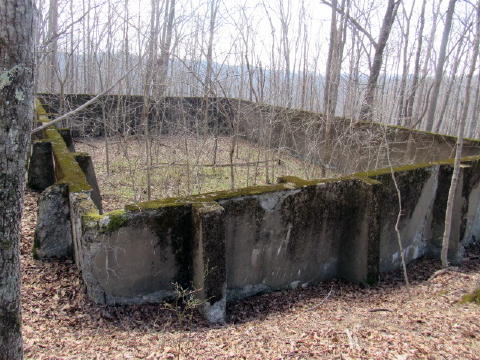 Concrete Bower water tank still rests high on the
remote mountain above the Bower Community, somewhat
of an engineering feat for its time, water pumped
from the Little Kanawha River to gravitate to the town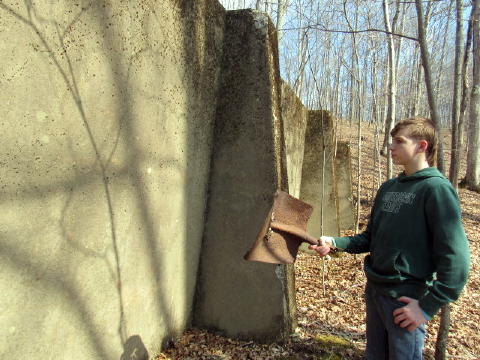 Braeden Godfrey holds old shovel
beside the Bower Water Tank
Perhaps the most famous song about the plight of miners was "Sixteen Tons" by Tennessee Ernie Ford, depicting life before unionization, and now there is political movement to eliminate unions in the 21st Century.
"Some people say a man is made outta mud
A poor man's made outta muscle and blood
Muscle and blood and skin and bones
A mind that's a-weak and a back that's strong
You load 16 tons, what do you get?
Another day older and deeper in debt
St. Peter, don't you call me 'cause I can't go
I owe my soul to the company store
I was born one mornin' when the sun didn't shine
I picked up my shovel and I walked to the mine
I loaded 16 tons of number nine coal
And the straw boss said, "Well, a-bless my soul"
You load 16 tons, what do you get?
Another day older and deeper in debt
St. Peter, don't you call me 'cause I can't go
I owe my soul to the company store."