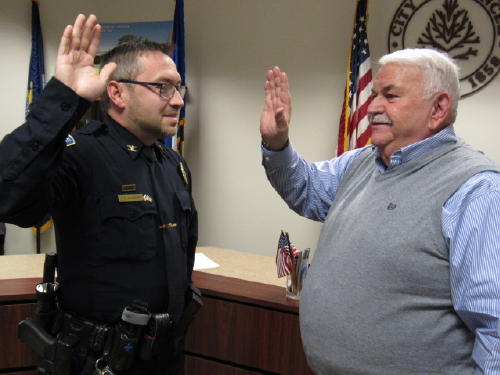 Former Calhoun Sheriff being sworn
in as Spencer's new Police Chief
Former Calhoun Sheriff Jeff Starcher is now the Chief of Police of Spencer, (shown above) being sworn in by Mayor Terry Williams.
Mayor Williams expressed appreciation for Starcher as a law enforcement officer, with a great record and being highly trained.
Starcher started his career in 2007 with the Grantsville Police Dept. He graduated from WV State Police Academy in 2008.
He previously held the administrative positions of Chief of Police (Grantsville PD), Chief Deputy, and Sheriff of Calhoun County.
Starcher has been a law enforcement instructor since 2013, and holds 10 Areas of Expertise (AOE's) including law enforcement administration and management and supervision.
He received a "Master Trainer" classification from the Law Enforcement Professional Standards Subcommittee in Charleston, WV
Starcher previously served as a Deputy Sheriff for Calhoun county Sheriffs Department and was previously a DOT officer from 2011-2015. He began his career with the Spencer PD as a Corporal in 2021, and was later promoted to the rank of Lieutenant, and served as the designated officer-in-charge (OIC) of the Spencer PD from Aug.-Dec. 2021, and was appointed Chief of Spencer PD on Dec. 17, 2021.