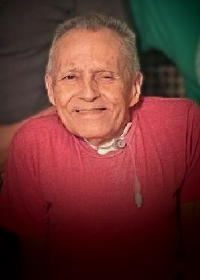 Roydice L. Williams, 83, of Grantsville WV, went to be with his Lord and Savior Tuesday, November 2, 2021 at his residence with his loving wife by his side.

He was born in Hazel Green WV, on December 6, 1937, son of the late James Carl and Amy Tingler Williams.

Roydice graduated from Calhoun County High School in 1956 and was a graduate of Mountain State Business College. He retired from Calhoun Banks, Grantsville WV, after 39 years of service.

He was a faithful member of the Brooksville Missionary Baptist Church of Big Bend WV, where he served as a deacon and Sunday school teacher for many years. He enjoyed fishing and hunting, but his main priority was sharing the Word of God with others. If you visited with Roydice, he would not have let you leave until he had shared the Gospel.

Roydice is survived by his wife of fifty-two years, Sue Ferrell Williams. He loved and cherished his daughters, Leslie Williams of Elizabeth WV, and Carla Brown and husband Jim Brown of Mt. Zion WV. The joy of his life, who brought him much pleasure, was his grandson, Owen Taylor. Roydice spent many hour's playing cards with his Rook partner Owen and the rest of his family.

He is also survived by his sister, Erma Yost and her husband Arthur, sisters-in-law, Glenna Williams and Sharon Williams, several cousins, nieces, nephews, and many other wonderful family and friends.

In addition to his parents, Roydice was preceded in death by brothers, Wilford Williams and wife Violet, Gayford Williams, and Bernard Williams; sister, Freda Perdue, and brother in Christ Larry Morton, as well as many uncles, aunts, and cousins.

Visitation will be held at the Brooksville Missionary Baptist Church on Sunday, November 7, 2021, from 10:00 a.m. to 12:00 noon. The service will be officiated by Pastor Matt Sanders and will begin at 12:00-noon. Interment will follow at the Pleasant Hill Cemetery near Grantsville.

The family requests, that in lieu of flowers, donations be made to Brooksville Missionary Baptist Church or Little Kanawha Valley Christian School, 6303 W. Little Kanawha Hwy., Big Bend WV, 26136.

Ellyson Mortuary, Inc., of Glenville WV is honored to assist the family of Roydice L. Williams with arrangements.