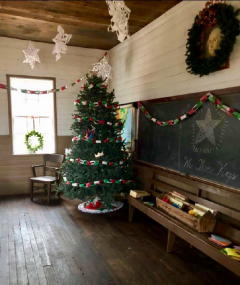 Kick off the Holiday Season at Calhoun County Park's Historic Heritage Village, on Saturday, November 27th from 2 to 5 p.m. Admission is $5 - Pre-School children are admitted FREE.

* Check off your shopping list with items from the Jarvis Store.

* Make your own Christmas craft at Stevens School and the Stemple Cabin.

* Let your little ones mail a letter to Santa from the Freed Post Office.

* Snack on Kettle Corn made over an open fire.

* Join in on the Tree Lighting Ceremony at 5 p.m.

Christmas in the Village is the perfect place for the Holidays

For more information see: Calhoun County West Virginia Historical Society on Facebook, or call 304-354-7507. Nor responsible for accidents.