A TRIBUTE TO THE MCCUMBERS FAMILY

The McCumbers and Cottrell families moved westward to a wilderness from which sprung Calhoun County with their hardscrabble genes and musical talent from the old country. The families often marrying the other, over in the next holler.

The McCumbers Family, settling in or near the Bear Fork Wilderness, fiddlin' and singin' across the dense forests, their talent still surviving for several generations, now known as some the best Appalachian music makers ever.

The humble music makers in the hills of Calhoun and WV did not seek recognition for their genuine music, they were sought after by others who had an appreciation of their deep rooted sound, connected to the building of America.

Robert "Buck" McCumbers, whose pickin' and singin' with his family and other music makers, has enjoyed a challenging and fascinating career. He has now written a history of his family and music making for the Hur Herald, to appear in a series of stories. - Bob Weaver

By Robert "Buck" McCumbers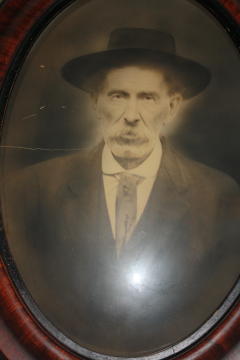 My great, great grandpa, Newton Gilbert Sims (right) was born March 7, 1845. He was the son of John Sims (born 1787 and died February 1856) and Elizabeth (Romine) Sims from Lewis County. He had fair complexion, dark hair and hazel eyes. He was 16 years old when he joined the Union at Spencer, VA (now West Virginia) on November 5, 1861. He was a private of Company B, 9th Regiment for three years. He reenlisted as a Corporal and transferred to Company "I", 1st West Virginia. He mustered out July21, 1865 at Cumberland, MD. According to his statement, he only sustained a wound to a finger when his gun discharged accidentally at Elk River.
Great, great Grandpa Sims had one brother, Eli Sims, 2 sisters, Margaret M. Sims and his twin sister Mary E. Sims. He and his twin sister was raised by William Cookman. They lived near Jane Lew, Lewis County. William and Susan Cookman had a son and daughter when they took them in and raised them with their kids. I'm guessing that this was because Great, great Grandpa Sims' Dad, John Sims was married before and had 5 kids, Martin, Frank, Thomas, Elizabeth and Susan. They would be his half- brothers and sisters. Also, Great, great Grandma, Newton's Mother was previously married and had 3 kids, Hester, Mary and John Queen.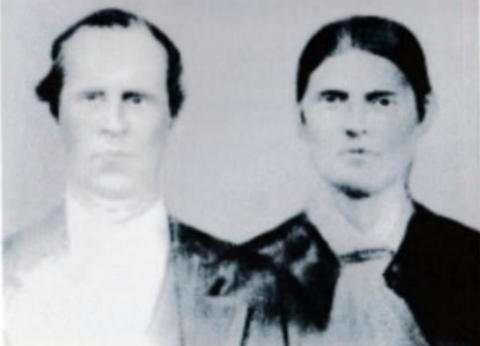 William Eldridge Cottrell (1831) and Deborah Nicholas (1841)
One of the stories of Great, great Grandpa Sims that was passed down to me through my Mother, Rhonda Pearl McCumbers who said it was passed down to her was Great, great Grandpa Sims did not talk much about the Civil war. He did tell at one time he was chased by a soldier on a horse who was trying to kill him with a sword. Grandpa Sims was on foot and kept circling around a tree trying to load his musket. He said everything was turning dark until he finally got the ball loaded in his musket as he was avoiding getting his head cut off from the soldier with the sword who was on horseback. He said he then turned around and rolled the soldier out of the saddle.
Another story was the Confederates had a beautiful white horse tied up in the middle of the battlefield and dared the Union troops to go get it. Great, great Grandpa said he wanted that horse real bad so he ran out, unloosed the horse and rode it back to the Union side. The Confederates shot at him but he was not hit. The bullets came so close that they had shot parts of his clothes off.
Another story is Grandpa Sims, according to his military records re-enlisted and looked as if he was doing some scouting for the Union Army. This story was passed down. He found the enemy camp and was climbing down a steep embankment to observe more closely. It was after dark. His footing slipped and he was sliding toward the camp of the enemy. He said there was nothing to grab on to and just before sliding off the embankment he straddled a small bush and he had to sit there all night. When daylight came, he knew that he would probably be killed because if any of them looked up, they would see him. But he lucked out. The enemy left out without seeing him and he was able to get down.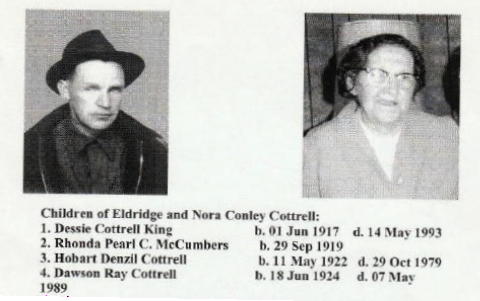 Another story was Grandpa said he and some of his other comrades were starving. They had nothing to eat. When they came upon this farmhouse and asked for some food the lady said to come in and she would fix them something to eat. Grandpa said that while they were inside, they didn't know that one of the young boys who lived there had slipped out to tell the Confederates that they were there. The lady told them to sit at the table and she would cook them some food. Grandpa said every time he went to sit down something would pull his hair on the back of his neck. After this happened 2 or 3 times he said "Boys, something is not right here. I'm getting out of here". They laughed as he left. He said he had no more than got out until the place was surrounded by the enemy. He didn't say whether they were captured or killed.
My Great, great Grandpa, Newton Gilbert Sims' 1st wife was Margaret Jane Hall, daughter of George and Eliza Hall. They were married in Kanawha County, WV around January, 1864. After discharge they moved in with Margaret's parents. Her mother conveyed to Newton that Margaret was unfaithful to him. Newton left in August, 1865 to live with his twin sister, Mary E. Sims. Newton did not know that Margaret was pregnant when he left.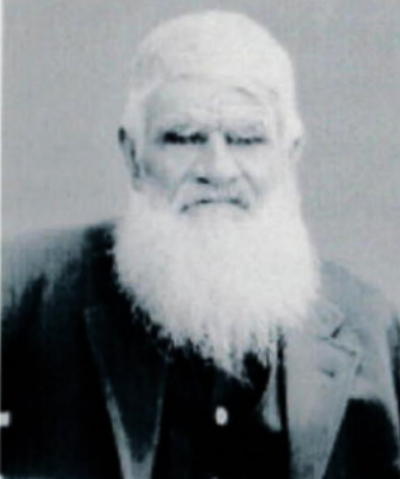 William Perry Cottrell (1838-1919)
In March, 1866, Newton left to go to Charleston, WV. On the way he got into a fight with Alexander White and killed him. He was tried and sentenced to 18 years in Moundsville Penitentiary. Before he was pardoned on February 16, 1881, he heard that Margaret had died.
Newton's second wife was Ruth Elizabeth Jane White. They married in Green, Pennsylvania, USA on April 21, 1881. They had two children, William A. Sims, born March 13, 1882 and Bernice Sims, born November 4, 1883. Newton left them in January, 1898 (or September 8, 1897). Ruth tried to have him arrested for desertion and non-support. She filed and received half of his government pension. The government investigated and found he had been sending money all along and also visiting his kids regularly. According to the investigation, she was never entitled to any of the pension. Newton Sims then received back his full pension. They divorced in Calhoun County, WV on October 11, 1902.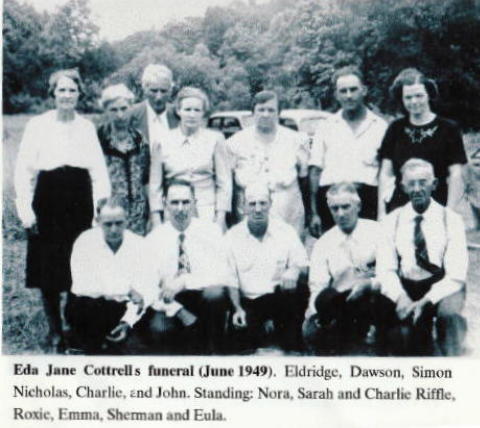 Meanwhile, Newton's daughter from his first wife filed for a minors pension saying she was sixteen years old. It was investigated and found she was 30 years old instead. She almost got thrown in jail for fraud. This was when Newton found out he had a daughter (Mary S. Sims). She was born in early 1866. Her Mother was Margaret J. Sims. This is when Mary first found out that her Dad, Newton was alive. She thought he was killed in the war.
The third wife of Newton Sims was Arizona C. Schoolcraft, the daughter of Reubon Schoolcraft and Mary Jane Seabolt. They married January 25, 1903. They had one son, Freddie Martin Sims, born November 16, 1903. They divorced in Calhoun County, WV on April 20, 1915. A special examiner stated Newton G. Sims was an intelligent, almost intellectual looking man and he talks as he looks. Although due to his past history, he wouldn't rate him a good man.
Great, great grandpa, Newton Gilbert Sims said when he went into service he was slender, 5 feet, 11 inches tall and when he got out he was 6 feet and ¼ inch tall. He met his daughter Mary for the first time when she was in her 30s. After his last divorce, he went to live with her (Mary S, Conley). He bought her a Century sewing machine for two dollars which was passed down to me and I have passed it down to my Daughter, (Nilesha D. McCumbers Shaver), who lives in the Ravenswood, WV area. Mary S. Conley was my Great Grandma and she took her Dad (Newton G. Sims) in and took care of him until he died on November 30, 1919 and was buried in the Carpenter Cemetery, Orma, Calhoun County, WV.
This story was passed down. I talked with my sister Sandra and my first cousin Sheila Hall. With our sources we are sure this could be true. The story goes, when Grandma, Nora (Conley) Cottrell was a little girl she remembered standing and looking out the window of her parent's house on Bear Run. Her parents were Joseph and Mary Conley. She saw a cross burning in their garden after dark. It was told the Ku, Klux Klan was apparently giving a warning. Rumor has it that they tar and feathered Great Grandma, Mary Conley either that night or sometime soon after. They had tied up Great Grandpa Joseph Conley while they did this and warned him to control his wife. We, Sandra, Sheila and myself all think we know the reason why, but since we don't know for sure we will leave it unsaid.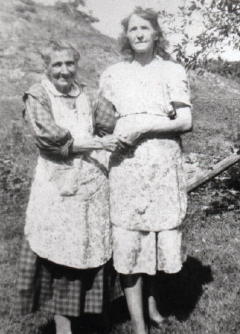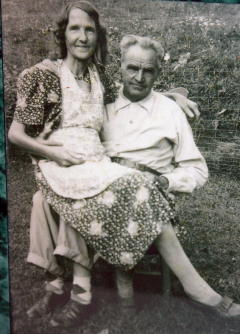 Mary S. Sims Cottrell and Nora Cottrell (left)
and Eldridge and Nora Conley Cottrell (right)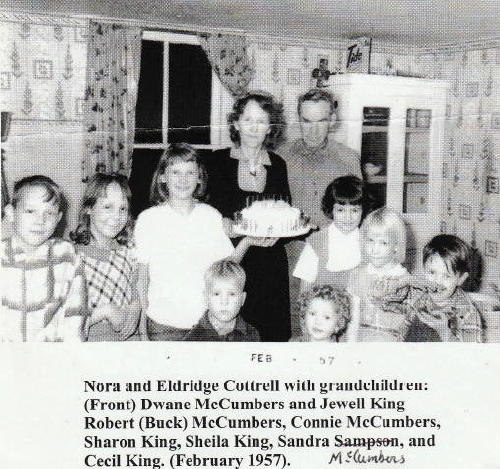 Uncle Simon Nicholas who married Etta Emma Cottrell lived in the head of Bear Run, the next house past my Grandpa and Grandma, Eldridge and Nora Cottrell. My sister, Connie (McCumbers) Hardman said when she was small, Uncle Simon sat her on his knee and told her how he got saved. He told her he was pretty wild, drinking and such. He said he dreamed one night and God spoke to him and gave him a vision of Heaven. He said he saw the most outstanding sights. When he woke up, he fell to his knees and begged the Lord to forgive him. Uncle Simon could not read or write and he prayed to God to help him read the Bible and to learn of His Word. God gave him that wisdom. He could read the Bible through, but to read another book, he just couldn't do. He became one fine preacher and preached all over. Connie wrote a song about him. It has never been recorded, but is a great story about Uncle Simon.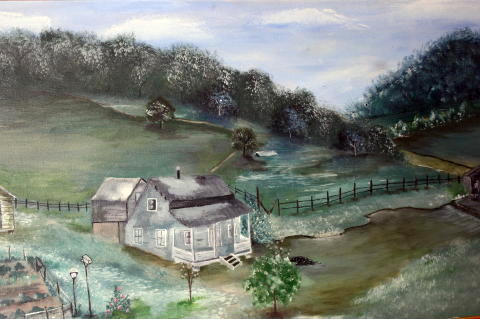 The house Dad built on Mount Run
Fred Lambert married Cora Cottrell, Grandma Cottrell's twin sister. He had a saw mill set up on Great Grandma's property on Bear Run. My Dad, Bernard worked on the saw mill to get enough lumber to build his and Mom's first house next to Aunt Phoebe and Perry Parsons. When Dad bought the farm off of Grandpa Gallory, he tore down the first house on Bear Run to build a kitchen on the back of the house he bought from Grandpa Gallory on Mount Run.