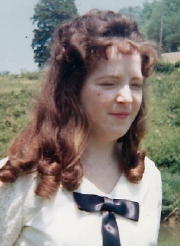 Geraldine Marie Cogar, 83, of Weston WV, departed this earthly life in the evening hours of Thursday, October 27, 2021 at the United Hospital Center in Bridgeport WV; following an extended illness.

She was born March 2, 1938 in Orton WV, daughter of the late Arch and Lena Smith Jenkins.

Geraldine was a homemaker and Christian by faith. She enjoyed puzzles, word search games, and spending time with family and friends.

Geraldine is survived by her long term companion Darrell Riddle of Weston; a daughter Richaetta Gilliam of Ohio; 6 grandchildren, Melissa Isenhart, Crystal Isenhart, Heather Blake, Marshall Blake, Justin Jackson, and Dustin Jackson; and 3 siblings, Golden Jenkins and wife Betty of Glenville WV, Charles Jenkins and wife Wilda of Normantown WV, and Glena Green of Glenville.

Also surviving are great-grandchildren, great-great-grandchildren, and a host of nieces, nephews, cousin, and many other wonderful family and friends.

Preceding Geraldine in death is her first husband, Elmer Lamp (1969), her second husband Richard Cogar (1986); and 9 siblings, Goldamurl Atchison, Greta Hardman, Ralph "Jack" Jenkins, Gordon Jenkins, Emerson Jenkins, Eugene Jenkins, Marple Jenkins, and infants, Woodrow and Marvin Jenkins.

A funeral service will be conducted at the Ellyson Mortuary, Inc., 2 Vanhorn Drive, Glenville WV at 2:00 p.m. Sunday, October 31, 2021 with Pastor Dave Turner officiating. Burial will follow in the Mt. Carmel Cemetery near Normantown. Friends will be received from 12:00 noon – 2:00 p.m. Sunday at the mortuary in Glenville.

Ellyson Mortuary, Inc., is honored to assist the family of Geraldine Marie Cogar with arrangements.