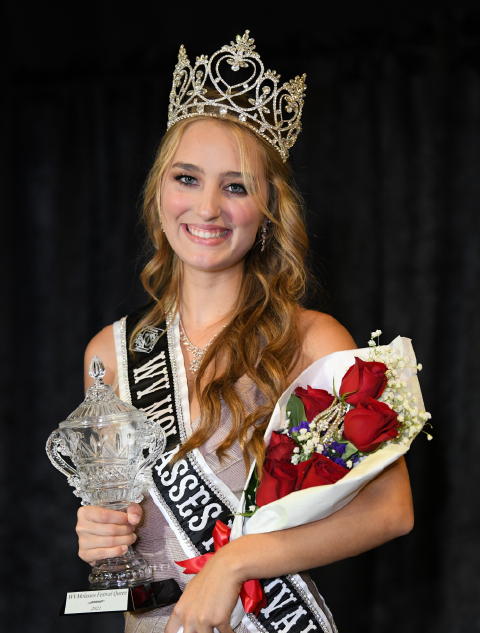 Lauren Roush selected as 2021 WV Molasses Festival Queen
Lauren will begin her reign on October 21st when she will be introduced at the Opening Ceremonies of the 53rd-54th WV Molasses Festival with the theme is "Its Time to Stick Together, Again". Lauren will also travel to Charleston on January 13th-15th, 2022 to represent the WV Molasses Festival at The WV Association of Fairs and Festivals Convention.
Lauren is the 18-year-old daughter of Jason and Lesley Roush of Ripley WV. She is a student at Charleston University studying Biology-Pre-Med.
Also crowned was the WV Molasses Festival Teen Queen, Raegan Sisk of Fairmont WV. Raegan is the 14-year-old daughter of Breein and Grant Sisk. She is in the 9th grade at Fairmont Senior High School.
The 2021 Jr. Royalty Court is Emma Waugaman, Eliana White, Libby Dawson, Reagan Kimbler, Aubriana Ray, Hadley Starcher, Harley Nester, Nora Cunningham and the first Ms. WV Molasses Festival Queen is Megan Harper of Spencer WV.
The pageant was held at the Arnoldsburg Community Building on August 28th with Kelli Collins, Pageant Director. The festival committee would like to thank Sponsors for the event: Stump Funeral Home, Melissa's Hair Salon, Amazing Acrylics, Oliverio's Bridal & Prom Boutique, A+ Photography, Calhoun Auto Care LLC, J & B Drug Store, Country Escapes Realty, Tim Moore State Farm, Stinson Grocery, Holbert's Store, Burkett's Auto Body, Foodland, Calhoun Insurance Agency, Dodd's Sporting Goods, Minigh Family Dentistry, Jen's Thrift Store and More, Old Fences Realty, Erlewine Concrete Company, Calhoun Banks, Hupp Surveying and Mapping, Jack Garrett Ford, Nu Look, Houchin Construction, Leslie White Photography, Calhoun Realty, Inc, and Gretchen Pingley Photography, LLC.
Queen Roush and her court will be featured on a Queen's Float in the Molasses Festival Parade which will begin at 1:00 p.m. at the Arnoldsburg Elementary School. Molasses Festival Royalty invites everyone to come out and take part in this year's event.