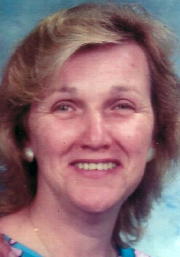 Bonnie Lou Klotz, age 80 of Glenville WV, departed this earthly life in the early morning hours of Tuesday, October 12, 2021 at her residence in Glenville, following an extended illness.

She was born July 21, 1941 in Saginaw MI, daughter of the late Kenneth and Mildred McCullum Grigware.

Bonnie is a graduate of Regina Catholic High School, in Ohio, class of 1959. She worked as a film duplicator for the Prince Georges County, Maryland school system, having retired in 2004. In her spare time, Bonnie enjoyed collecting unicorns, spoons, and movies, she loved everything Elvis Presley related and had a room in her home dedicated to the singer, she loved helping anyone that needed it, and also loved caring for and spending time with her family.

Bonnie is a Catholic by faith and loved attending services at the Good Shepherd Catholic Church in Glenville.

On December 24, 1963 Bonnie was united in marriage to Robert Klotz, who survives at their Glenville home.

Also surviving are 4 children, Tami Stallings of Florida, Theresa Hale, Roberta Neyer, and Robert Klotz Jr. all of Glenville; 9 grandchildren, Kyle and fiancée Ashley, Kacie, Kris and wife Sami, Brittany, Ashley, Holly, Sam, Jonathan, and Justin; and 4 great-grandchildren, Angel, Ace, Onyx, and Violet.

Additional survivors are numerous nieces, nephews, cousins, and many other wonderful family and friends.

Along with her parents, Bonnie is preceded in death by a grandson, David Collins; and 2 sisters, Joan Hainey and Shirley Timmer.

Bonnie's request for cremation has been honored and a celebration of Bonnie's life will be held at a later date.

Ellyson Mortuary, Inc., of Glenville, is honored to assist the family of Bonnie Lou Klotz with cremation arrangements.