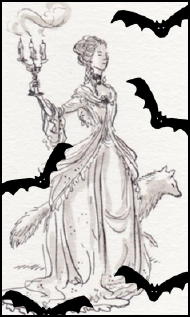 The Calhoun County Historical Society will present a Halloween event, On Saturday, October 23, at 6, 7, and 8 p.m. at the Stump House Hotel on Main Street in Grantsville.

"Harrowing Tales and Local Lore," will feature mysterious guests, a tour of the spooky Stump House Hotel, and ghostly tales in the Museum. The Hotel has decorations appropriate for a wedding and reception, with a Halloween twist.

There will be three performances at 6:00 p.m., 7:00 p.m. and 8:00 p.m. Space will be limited and, due to closeness in these areas, masks will be required. Admission is $5.00 and advanced tickets are available by calling 304-354-7507.