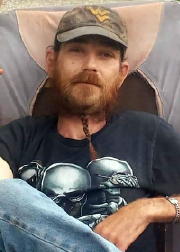 Charles L. Selman, 42 of Copen WV, departed this earthly life in the evening hours of Sunday, September 26, 2021 at the United Hospital Center in Bridgeport WV, following an extended illness.

He was born May 30, 1979 in Grantsville WV, son of the late Janna Jo Curry Selman and Buel Selman.

Charles had been battling illness for many years and in his spare time he enjoyed hunting, tinkering on cars and motorcycles, spending time with family and friends, and playing with his dogs, Target and Bullseye.

On December 28, 2008 Charles was united in marriage to Denise Utt Selman, who survives at their Copen Home.

Surviving are 2 sons, Charles G. Selman and Tristian M. Selman of North Carolina; 2 step-sons, Joshua L. Taylor and Hunter L. Taylor of Copen; and 4 siblings, Amy M. Ellison (Jason) of Elyria OH, Robin Criss (Sam) of Buckhannon WV, Eddie Selman (Juanita) of Cowen WV and Alva Selman also of Cowen.

Also surviving are numerous nieces, nephews, cousins, many other wonderful family and friends, and special friends, Kenny Ratliff, Steve Jamison, Chuck Mills, and Chad and Marsha Wine.

A funeral service will be conducted at the Ellyson Mortuary, Inc., 2 Vanhorn Drive, Glenville WV at 1:00 p.m. Friday, October 1, 2021. Burial will follow in the Lucy Ball Cemetery near Gilmer Station. Friends will be received from 12-noon – 1:00 p.m. Friday at the mortuary.

Ellyson Mortuary, Inc., is humbled to assist the family of Charles L. Selman with arrangements.