The Hur Herald will post information about lost and found pets in an effort to get them in their rightful home again. Send one photo, your phone number and a brief description about the animal(s) to bob@hurherald.com ... The inquiry will be posted for 14 days. If the lost/found pet has been located/returned to owner, please notify the Herald.
REDUCED COST CAT AND DOG SPAYING AND NEUTERING IS AVAILABLE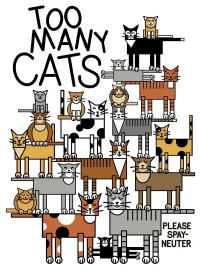 - Reduced cost cat and dog spaying and neutering is available now. The Welfare of Animals Group [WAG] can assist low-income Calhoun County homes with 50% of their pet's spay/neuter fee.
It is cheaper to spay a pet than to pay the costs of caring for one litter of puppies or kittens.
Donations of dry cat food are greatly appreciated and can be dropped off at the Grantsville library.
For more information or to make an appointment, please call 304-354-7042.
Funded in part by The Bernard McDonough Foundation, The Oakland Foundation, and the WV Department of Agriculture.