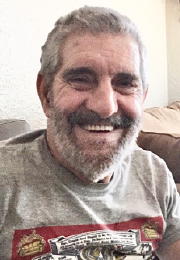 Jerry Nelson Wine, 75 years young, passed away September 22, 2021.

He is survived by his two daughters Candy Minigh and Brandy Wine, his two grandchildren Kassandra and BreAnna Minigh, and his great grandchild Ella. His siblings Denzil, Lewis, Junior, Havonda Wine, Susie Wyant, and Rita Cochran.

He was preceded in death by his parents Melvin and Etta Wine, as well as his siblings Elmer and Letcher Wine.

We welcome all those who wish to celebrate Jerry's kind, giving, and loving soul to join us on October 10th at 2 p.m. at the Copen United Methodist Church, immediately following will be refreshments at the Copen Community Center. Bring stories, laughter and fellowship to honor this great man's life.

Ellyson Moruary, Inc. of Glenville WV is honored to assist the family of Jerry Nelson Wine with cremation arrangements.