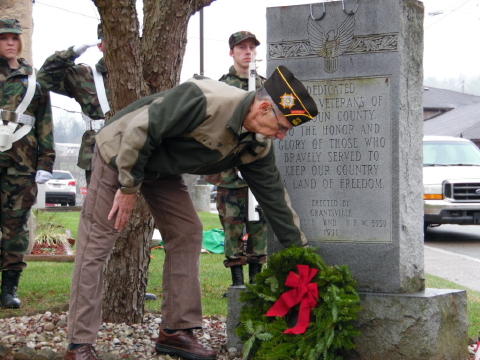 On National Wreaths Across America Day (Saturday, December 18th, 2021, at 12:00-noon) Calhoun Composite Squadron of the Civil Air Patrol will be coordinating with wreath-laying ceremonies at Arlington National Cemetery, as well as at more than 1,400 additional locations in all 50 U.S. states, ships at sea, and bases abroad.
Calhoun Composite Squadron WV016 of the Civil Air Patrol will be working to raise funds to purchase wreaths for our deceased Veterans' graves from now until the first of December.
Wreaths are $15.00 each and may be purchased by family or friends to honor veterans. The wreaths can be placed by individuals or by Civil Air Patrol members following military protocol.
When you order a wreath for a loved one, be sure to include the name of cemetery, the name of the person, and an approximate location of the grave. Please include your phone number in case we have questions.
Each year we usually begin fund raising during the summer, however, due to the Covid spikes in our area, we have not been able to fund raise. Therefore, we are asking for donations of any amount, and we will purchase as many wreaths as possible to place on the graves of deceased Veterans in Calhoun County cemeteries.
If you would like to order a wreath or donate, you can mail it to: Civil Air Patrol P.O. Box 820 Grantsville, WV 26147
*Checks should be made out to: Wreaths Across America
**Questions can be directed to: Major Donna Umstead at 520-465-8657.
See   "WREATHS ACROSS AMERICA" - Calhoun CAP Honors Deceased Veterans 2019