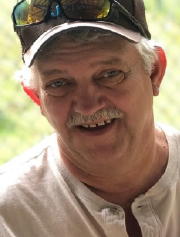 Carl Victor "Buck" Burkhammer was reunited in heavenly eternity with the love of his life, Kim, on Sunday, September 12, 2021.

Buck, as he was fondly known as, was born on July 15, 1963, in Weston WV, to Euna Marie Childers, who resides in Webster Springs WV, and the late Jerry Linden Burkhammer.

Holding heartfelt memories, he is survived by his mother, Euna Childers; his brother, Mike (Peggy) Burkhammer, of Weston; his daughters, Selena Burkhammer, of Kendallville IN, Karla (Tim) McCourt, of Webster Springs, Brandy (Jason) Smith, of Glenville WV, and Megan (Shane) Sprouse, of Saint Albans WV; nephew, Johnathan Burkhammer, and niece, Faithen Beagle. In addition, Carl has eight grandchildren, Aleesea, Madalynn, and Gary Hogue, Kinslee and Kadison McCourt, Maci and Enslee Smith, and Alice Sprouse.

Carl was a mechanic, spending most of his life working in the oil and gas industry, where he formed a second family in the men he worked with. He was also a tinkerer and always had a project he was working on. He enjoyed going to car shows and parades to flaunt his sparkly red Volkswagen Dune Buggy. Most of all, he loved giving his grandkids powered donuts, usually before they even learned to sit on their own.

Meeting him at Heaven's gates are his wife, Kimela Kay (Butcher) Burkhammer, his father, his brother, Jerry Lynn "Fly" Burkhammer, and his grandson, Wiatt Victor Smith.

To gather and reminisce on Carl's life, family and friends will be welcomed at Ellyson's Mortuary in Glenville on Thurs., Sept. 16 from 6 to 8 p.m. A service will be held on Friday, September 17 at 11:00 a.m., at the Mortuary. Carl's final earthside resting place will be in the Troy IOOF cemetery next to his devoted wife.

Ellyson Mortuary, Inc., is honored to assist the family of Carl Victor "Buck" Burkhammer with arrangements.