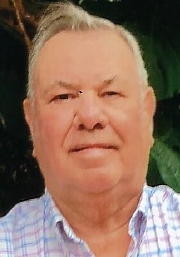 Harlen R. Huffman, 73 of Gallipolis OH, departed this earthly life suddenly at his home on August 25, 2021.

He was born November 29, 1947 in Braxton County WV, son of the late Russell and Ethel Sprouse Huffman.

Harlen worked briefly in the coal mines in Wheeling WV, when he was first married but went to the oil and gas fields working 14 years for I. L. Morris in Glenville. Harlen then moved up in the business to become the manager of different oil and gas companies with a career spanning 22 years and finishing with NRM Petroleum in Buckhannon WV where he was area manager.

Harlen then moved on to the United States Army Corp of Engineers, Pittsburgh and Huntington districts as a Construction Representative, overseeing numerous projects to ensure the government was getting what it was paying for. During his work, he oversaw Dam repairs, building maintenance, expansions, and supported super fund and disaster recovery efforts by the USACE. Harlen retired from the USACE in 2013 with 27 years of service.

After retirement, Harlen was not ready to stop, so he took to being a safety Consultant continuing to support USACE projects in which he did till his passing. In his spare time, Harlen enjoyed spending time in the mountains, hunting, being outdoors, and spending time with family and friends. He is a Methodist by faith and is a member of the Centenary Methodist Church in Gallipolis.

On March 29, 1969 he was united in marriage to Rosalea Perrine Huffman, who survives at their home in Gallipolis.

Surviving are 2 sons, Harlen Huffman Jr. and Richard Huffman both of Gallipolis; 8 siblings, Barbara and Lulabelle of Braxton Co., Delbert, Ralph, and Robert of Wheeling WV, Bill and Denzil of Glenville, and Paul of Grafton OH. Also surviving are 5 grandchildren, 2 great-grandchildren, and a host of nieces, nephews, cousins, and many other wonderful family and friends.

Along with his parents, Harlen is preceded in death by 2 siblings, Donnie Huffman and Edith Huffman.

A funeral service will be conducted at the Ellyson Mortuary, Inc., 2 Vanhorn Drive, Glenville WV at 1:00 p.m. Tuesday, September 7, 2021 with Rev. Harold Benson officiating. Burial will follow in the Rommetsch Chapel Cemetery near Normantown WV. Friends will be received from 11:00-1:00 p.m. Tuesday at the mortuary in Glenville.

Ellyson Mortuary, Inc., is honored to assist the family of Harlen R. Huffman with arrangements.