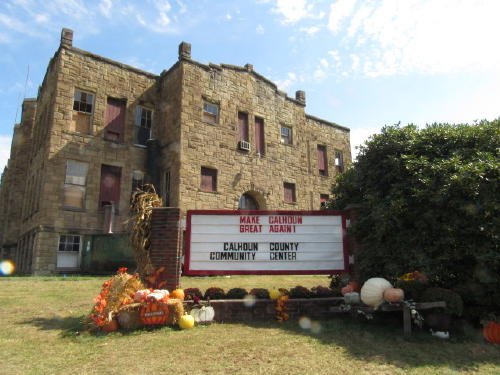 Ole Calhoun County High School getting a hopeful breath of life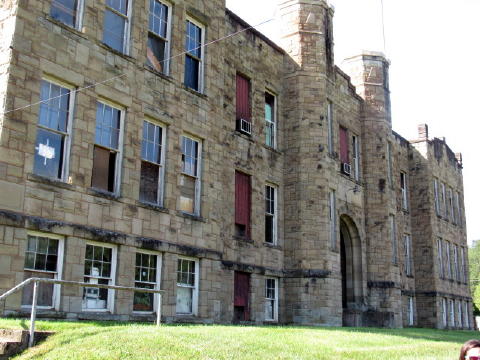 The old CCHS has had several owners since it closed in 1998,
a few with visions of restoring the historic structure, a few
using it as a tax write-off, with the new new owner having a
concentrated vision of bringing new life to a place of memories
By Bob Weaver
8/30/2021 - There is new hope saving the historic Calhoun County High School in Grantsville, which closed in 1998 after a 75+ year run, likely graduating about 7,000 students.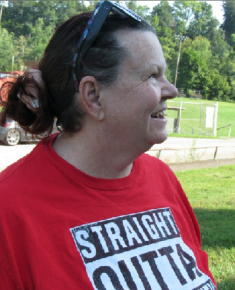 Arnoldsburg native Crystal Laughlin Mersh (left), a graduate of the Class of 1982 now residing in Atlanta, has purchased the old stone structure with the twin towers. She is currently President and CEO of Quality Executive Partners, Inc.
Laughlin has created the 1982 Foundation, a non-profit 503-c corporation, whose motto is "Restoration for All."
See   The 1982 Foundation-Calhoun County Community Center
The main building will be restored for a number of special purposes, with the dilapidated sections to be removed, the main building is still considered to be structurally sound.
The previous owners recently installed a new roof.
The building will be restored as the Calhoun County Community Center, and will be a mixed use development, housing rooms and areas for community functions, day camps, reunions and meetings, several AirBnB rooms and also offices that will be available for lease to new business to be attracted to the area.
All proceeds from rentals/leases will be used to fund community programs for children and the operations of the building.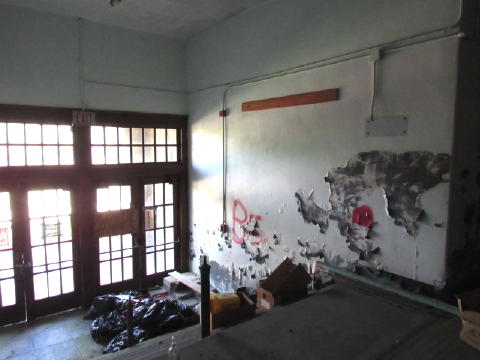 The workload to restore the old structure is humongous, although the main structure is sturdy.
She is reaching out to community members to donate materials and labor to the project.
Initial efforts are to develop the architectural plans, demolishing the parts that are falling down, and secure the remaining areas to prevent further damage, completing this phase in the fall and then move onto electrical, plumbing and HVAC projects.
Laughlin said "State political officials have been very supportive. Let's make Calhoun an example of what a caring community can do for their children, ourselves and the future growth of our county."
Mersh, the daughter of Jim and Ruby Laughlin, lives in Atlanta with her family, but has traveled the world and lived all over.
Graduating from Fairmont State and starting a pharmaceutical career at Mylan in Morgantown and 35 years still in the biopharma sector, serving as CEO of her own firm Quality Executive Partners Inc which provides executive management consulting and technical education.
She gives credit to her former chemistry teacher at Calhoun High, Marvin Stemple, for inspiring her and hundreds of other students.
She also "dabbles" in real estate, architecture, design and color. My more recent renovation projects include the renovation of Jane Fonda's penthouse in downtown Atlanta and Singer, Akon's multi-structure compound in Sandy Spring GA.
"I graduated from CHS in 1982. I was the class president of that rowdy but good hearted crowd, two state wrestling champions, and a marching band that competed on the national level. We had the winningest football team," she said.
"The Calhoun Chronicle ran an article the week after our graduation that we were the most disgraceful class to cross the graduation stage ever (We may have had the police show up…but I really don't remember it being that bad)." "So after 39 years, with the initiation of The 1982 Foundation, we wish to redeem ourselves and improve our reputation. Just a funny little fact that we can chuckle about all these years later."