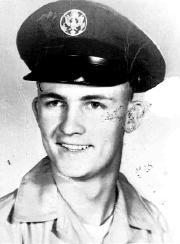 T/SGT Kenneth A. Brogdon, Retired USAF, 79, passed away August 20, 2021, at home.

He was born in Mullins SC, on September 21, 1941, to the late Edward and Mary Brogdon.

Ken enlisted in the USAF at the age of 18. During his career, he served as a Life Support Specialist in North Africa, Arizona, Vietnam, Georgia, Japan, Florida, the Philippines and New Mexico, retiring after 20 years. He received Commendation Medal for meritorious service in Vietnam and medals that included Armed Forces Marksmanship, Vietnam Service, National Defense, Republic of Vietnam Campaign, Armed Forces Expeditionary, Combat Service, American Defense, Vietnam Defense, Cold War Victory, Special Operations and Foreign Expeditionary and numerous awards and decorations for exemplary service during his career.

He attended WVU-P under the GI Bill. He was employed by Robinson's Farm and Lawn, Ravens Metal and Foodmart, all of Elizabeth WV. He was a former driver for the Wirt Co. Emergency Squad, member of VFW 6608 and was a Baptist by faith. He loved his grandchildren and enjoyed country music, western movies and bird watching.

Survivors include his wife of 58 years Wanda McFee Brogdon; children Gregory I. (Patricia) Brogdon, Angela Shears and Douglas (Andrea) Brogdon; grandchildren Gregory II (Brooke) and Adam (Correna) Brogdon, Dylan (Rebekah) and Kaylie Shears, Warren (Jasmine), Patrick, Riley and Ryan Brogdon; great-grandchildren Gregory III, Vincent, Waylon, Chase and Summer Brogdon, Harper and Addison Shears, Caitlyn and Ryan Brogdon and Jensyn Foutty.

In addition to his parents, he was preceded in death by a son, Steven Brett Brogdon, and six brothers and one sister. He was the last surviving member of his family. As the smoke cleared from his battlefield of life, a band of Hero Angels took another Hero home.

Services will be Tuesday August 24, 2021, at 11:00 a.m. at Matheny Whited Funeral Home of Elizabeth, WV, with visitation Monday, August 23, from 6:00-8:00 p.m. and Tuesday until the time of the funeral. Interment will be at K of P Cemetery in Elizabeth following military rites.

Rest in Peace, Pappy.