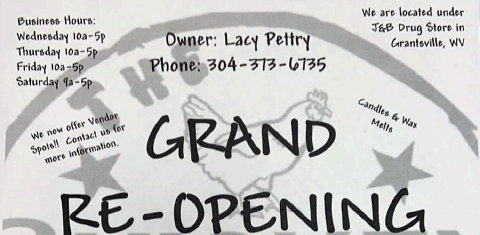 The Chicken Coop LLC Farmhouse Boutique and Gift Shop will be opening in Grantsville Saturday, August 21st from 10 a.m. to 5 p.m. The business is located under J&B Drug Store on the corner of Mill and Court Street.
Lacy Proctor-Pettry is the sole owner and operator of The Chicken Coop. She is the 26 year old mother of two wonderful children Abel and Sadie. Lacy has an Associate's Degree in Medical Office Administration. She says, "I ended up leaving the medical field due to my high risk pregnancy with my youngest baby Sadie. Then the pandemic hit and things became tough financially as I did not want to leave my newborn to return to work and my husband had no union or pipeline work available due to COVID-19, I started brainstorming. I've always wanted to open my own business and to be home with my babies while they are still little." "That's when I knew I needed to take a leap of faith. I've always loved the saying, 'If you love what you do, you never work a day in your life' and I've found just that," she said. Lacy loves crafting, flea markets, antiques and everything, farmhouse. She loves supporting small businesses and local shopping. She took all these ideas into consideration and blended them. In July of 2020, she officially opened her business, mainly social media based and delivered to local areas and customers. In May of 2021, she purchased an Amish built shed to turn into a storefront at her residence. After much work and many tedious hours, her dream had come true. The business quickly outgrew the building.
Originally from Calhoun County and having many customers and acquaintances here, she decided to start looking for potential storefronts particularly in the Grantsville area. "The town will benefit tremendously from new businesses not only by bringing more people to the community but by helping the economy in the area as well," she says.
The Chicken Coop is a combination of boutique, craft and trade items made by locals, as well as country and farmhouse decor and gifts. Lacy said, "We pride ourselves with hospitality and affordability as well as having top quality items."
"By making this dream come true, I have a successful career that I love, a solid foundation for my children and something to pass down from generation to generation. My 5 year goal is to have at least three Chicken Coops open in West Virginia and one in a neighboring state," she says.
Until then she looks forward to serving the Town of Grantsville and cannot wait to see what this adventure brings.