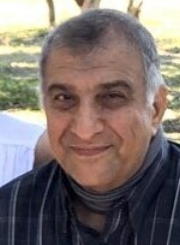 Ghassem Dave Ramezan age 67 of Sand Fork WV, (Stouts Mills Community) departed this earthly life on the morning of Thursday, August 12, 2021 at his residence, with his loving family by his side.

He was born February 20, 1954 in Tehran, Iran, to the late Javad and Mohteram Morezagholi Ramezan.

Dave is a graduate of Kharazmi High School in Tehran, and a graduate of West Virginia University where he received multiple degrees. He is the Owner/Operator of Ramco Technologies in Glenville WV, and Owner/Operator of the Gilmer Free Press based in Glenville for 10 plus years.

Dave is the current Vice-President of the Gilmer County Board of Education, a former professor at Fairmont State University and teacher at the Calhoun-Gilmer Career Center. He held an FCC registered amateur radio license, was instrumental in bringing internet to Gilmer County, and wrote a lot of grants to help bring technology to the Gilmer County school system.

Dave is a Christian by faith and in his spare time, enjoyed tinkering with all forms of technology, traveling, photography, gardening, spending time with family and friends, spoiling his grandchildren whenever possible.

On July 20, 1974 he was united in marriage to Hazel Janette Sprouse Ramezan, who survives at their home near Stouts Mills.

Surviving are 8 children, Daniel Ramezan (Jennifer) of Charleston WV, Jonathan Ramezan (Niki) of Flemington WV, Andrea Ramezan-Jackson (Brent) of Washington DC Anthony Ramezan of Fairmont WV, Sarah Walker (Matt) of Mt. Zion WV, Benjamin Ramezan (Allison) of Glenville, Rachel Ramezan of Morgantown WV, and Emily Ramezan of Sand Fork; and 10 grandchildren, Oliver, Isla, Greyson, Zander, Finnegan, Isabella, Jude, Nyla, Ellis, and Ivan.

Also surviving are 3 siblings, Hamid Ramezan (Zari) and Nahid Motlagh (Hossain) of Tehran, and Amir Ramezan (Kathryn) of Bruceton Mills WV; and a host of nieces, nephews, cousin and many other wonderful family and friends.

A funeral service will be conducted at the Ellyson Mortuary, Inc., and Cremation Services, 2 Vanhorn Drive, Glenville WV, at 11:00 a.m. Tuesday, August 17, 2021 with Pastor Kenny Fisher officiating. Burial will follow in the Turner Cemetery near Lockney WV. Friends will be received from 5:00-8:00 p.m. Monday evening at the mortuary in Glenville.

The family of Ghassem Dave Ramezan requests all who attend his visitation and/or funeral service to wear face covering inside the funeral establishment at all times.

Ellyson Mortuary, Inc., and Cremation Services is honored to assist the family of Ghassem Dave Ramezan with arrangements.