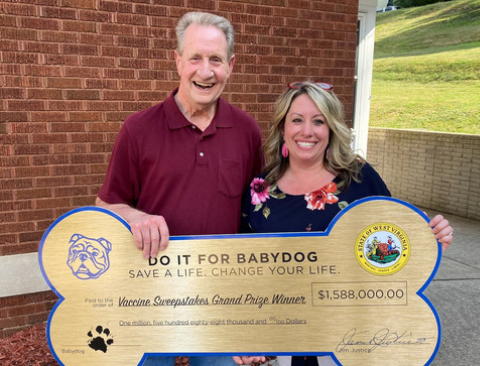 WCHS - A Spencer resident received the surprise of his life Tuesday – a visit by Gov. Jim Justice and his prized pooch Babydog and news that the resident had won the $1.588 million grand prize in West Virginia's vaccine incentive sweepstakes.
"Words can't express it. I mean it's such a surprise," Wally Board said. "I had no idea of anything like this. It's overwhelming."
Board said he is the executive director of public housing and has lived in Spencer his whole life. His daughter runs a real estate company for him.
When Justice gave the news to Board, the governor said that he and Babydog were there to "present the grand prize of all prizes, $1,588,000."
"For what? Board said in disbelief"
Justice responded, "For registering and getting vaccinated and entering the lottery."
Board said he didn't even recall entering the sweepstakes and said maybe his daughter entered him. Later, he said he must have entered.
When asked whether he thought he would be more popular now, Board said he was "getting too old for popularity."
Board said he was letting the big news sink in and didn't have a plan for how he will use all of the money, but he said hopefully "we can do some good with it."