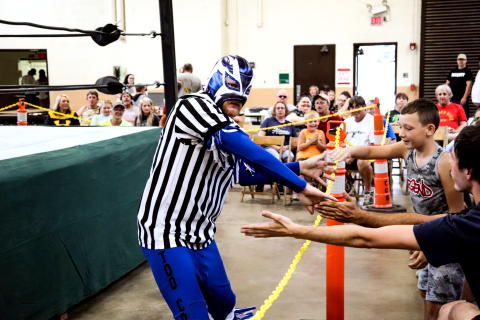 Route 33 Wrestling made its long-anticipated return to the Spencer Armory on Saturday, July 24th. Sponsored in part by Jack Garrett Ford.
Ring Announcer - Hank Hudson; Referees - Mike Luckey, Brad Mitchell; Show Opening - "Mongo"; National Anthem performed by Marlee Hall>
PRE-SHOW WITH SPECIAL GUEST REFEREE MIKE CELSIUS - Kamen MK defeated "The Mighty Turtle" Tortuga Fuerte, "standing Indian Death Lock/abdominal-stretch combo" submission in 4:09.
"Lover Boy" Terrence Morelli pinned "The Cyberpunk" Aaron Graves in 5:34 Morelli threw off Graves in his foe's attempt for a run up a turnbuckle "Tornado Bulldog" takedown and then rebounded for a double-kneedrop onto his prone shoulders for the three-count.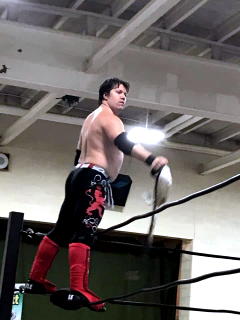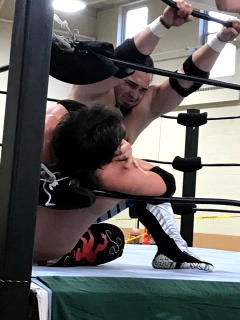 MAIN SHOW - "The Hooligan" Julian Jay pinned "The Bald Bombshell" V.J. Hales following a "Samoan Drop" reverse-powerslam and a "spear" takedown! "The Mind Eracer" Remy Lavey (representing "The Culmination") pinned "The 'Mor' Of Irish Strong Style" Riley Rose in 7:00. Lavey shielded the official as he delivered a low mulekick, and he then carried his foe on his back to execute a sit-out "stunner" to get the cover.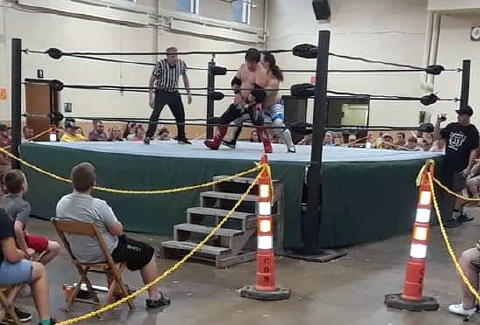 IMPROMPTU TAG-TEAM MATCH - "The Grimy Scots" (Hamish Stuart/"Grizzly" Duncan McBain) defeated "The Good Guys" ("Mad Dog" Zack Myers/Tristan St. Croix) (McBain pinned Myers with a "small-package" cradle with finally no rules infractions after the two tandems had exchanged a lightning quick one immediately after the other series of a half-dozen or so cover attempts nullified by the official for either the holding of tights or the illegal use of the ropes for extra pinning leverage.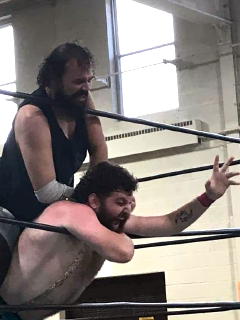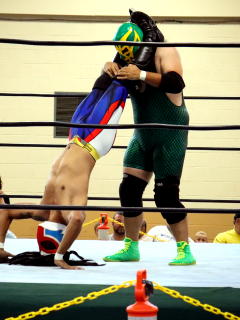 Chief ThunderBear pinned "Gorgeous" Morgan Taylor in 8:56 after reversing his foe's attempt to set up a "vertebraker" maneuver directly into an execution of one of his own!
"REMATCH" FOR THE "ROUTE 33 WRESTLING" CHAMPIONSHIP - "The Chosen Samoan" A.J. Alexander pinned champion "The Heir Apparent" Chris LeRusso in 10:34 to win the title!!! With both men down and as the official was checking on Alexander, Gary Gandy rushed out to clock LeRusso with a taped pair of knucks only to be immediately chased from the scene by "The Boss Lady" J.C. and her kendo stick!!! Alexander followed up with a kick upside the head and a running knee strike to cop the championship changing cover.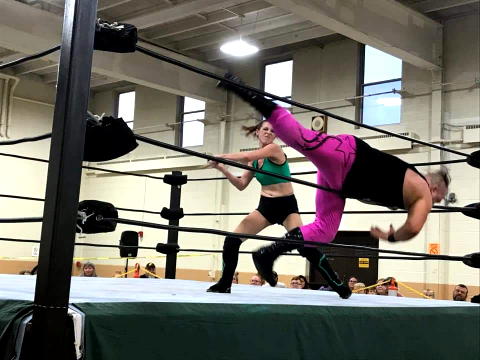 "NO DISQUALIFICATION" GRUDGE MATCH (TWENTY-TWO MONTHS IN THE MAKING) - "The Owner Of Route 33 Wrestling" - "The Boss Lady" J.C. pinned "Mr. 5-Star" Gary Gandy in 20:06! J.C. was managing to survive all of Gandy's punishment as well as some meddling from his wife, until she would eventually be rendered unconscious by a pair of consecutive curb stomps. When Gandy attempted a couple of covers and then picked up a limp J.C. each time from the canvas at the count of two, J.C.'s husband "Mongo" had to be restrained by event security from coming to her rescue.
However, his attempt was able to distract Gandy long enough for a J.C. blindside comeback and a quick "D.D.T." for her victory three-count! Gandy's continual attack post-match enraged Mongo into kayoing ref Luckey and two security guards and then proceeding unimpeded to the ring to take him out with a steel chair swat.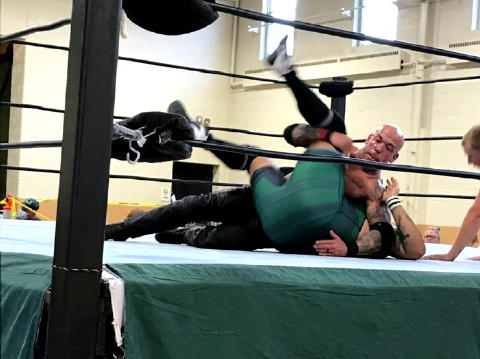 Follow Route 33 Wrestling on Facebook, Twitter, Instagram, and YouTube for the latest updates.
Photo credits - Mercy Collins, Hank Hudson, Lew Hull, and Kathryn Runnion.