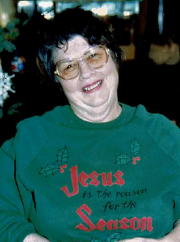 Janet Louise Heron of Vienna, WV, died July 22, 2021.

Born in Reedy WV, December 23, 1933, she was the daughter of the late George Victor and Lula hazel Huffman Heron.

Ms. Heron was a member of St. Francis Xavier Catholic Church in Parkersburg WV. She took great pride in her glass collection, was a diligent ancestry researcher, and was a prize winner in the Parkersburg News Cooking Competition. While she was physically able, she was active in area religious events and took great pride in her affiliation with St. Francis Xavier Catholic Church.

She is survived by her half-sisters and their families: Alice Stewart, son Gerald (Sally) and grandson Andy and daughter Wendy and grandchildren Summer and Dale Jr (Caitlyn) and great-grandchildren Eva, Dale III, Willow and Skyler; Brenda LeCourt, her sons David and Adam (Christel) and grandchildren Grace Ann and Emmalyn; Linda (Kenny) Bentley and a cousin Larry Lee.

Mass of Christian Burial will be celebrated at 11:00 a.m. Tuesday July 27, 2021, at St. Francis Xavier Catholic Church with Rev. Fr. John Rice, Celebrant. Friends may call one hour prior to the service. Interment will be at Two Run Cemetery in Palestine WV. Matheny Whited Funeral Home in Elizabeth, WV, was honored to assist the family.