A TRIBUTE TO THE MCCUMBERS FAMILY

2021

The McCumbers and Cottrell families moved westward to a wilderness from which sprung Calhoun County with their hardscrabble genes and musical talent from the old country. The families often marrying the other, over in the next holler.

The McCumbers Family, settling in or near the Bear Fork Wilderness, fiddlin' and singin' across the dense forests, their talent still surviving for several generations, now known as some the best Appalachian music makers ever.

The humble music makers in the hills of Calhoun and WV did not seek recognition for their genuine music, they were sought after by others who had an appreciation of their deep rooted sound, connected to the building of America.

Robert "Buck" McCumbers, whose pickin' and singin' with his family and other music makers, has enjoyed a challenging and fascinating career. He has now written a history of his family and music making for the Hur Herald, to appear in a series of stories. - Bob Weaver

By Robert "Buck" McCumbers

Miles McCumbers was born October 26, 1822 and died April 21, 1906. He married Jerusha Cottrell April 3, 1845. She was the daughter of John L. (Whig) and Margaret Anna Tanner. They had 14 children, 12 boys and 2 girls. The youngest was Wilbert McCumbers. He was my great Grandpa.

Wilbert McCumbers was born in Braxton County in 1870. He married India A. Harris in Braxton County on December 19, 1888. She was the daughter of Andrew and Mary (Cottrill) Harris. She was born August 22, 1872 and died April 19, 1917 from an accidental gun shot. My Dad told me that Wilbert was cleaning his gun and it accidentally went off. Wilbert and India were married 12 years and they had 4 children together. (Pina B., Allie F., Gallory and Missouri.

Wilbert McCumber's second wife was Loverna "Red Wing" Jarvis. They married on October 17, 1922 in Clay County, WV. She was born around 1887. Loverna was previously married to a Jarvis. She had one son, James W. Jarvis prior to marrying Wilbert. Wilbert & Loverna had 4 children together (Holly, Hattie, Harrison and Edward)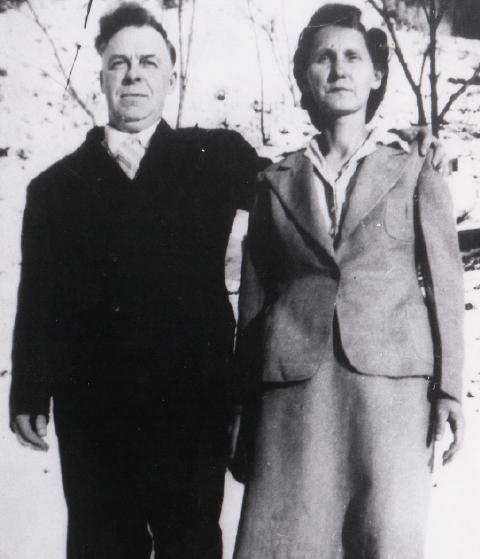 Gallory and Ada McCumbers
Gallory McCumbers, my grandpa, was born in Calhoun County, February 17, 1898. He was the son of Wilbert and India (Harris) McCumbers. He married Ada Cottrell August 25, 1917 in Calhoun County. Ada was the daughter of John and Malinda Cottrell. They had 8 children, 3 boys (Bernard, Willis and Junior) and 5 girls (Malinda, India, Snowy, Gladys and Clara). My Dad, Bernard, married Rhonda Pearl Cottrell, daughter of Eldridge and Nora Cottrell. Grandpa Gallory must have lived in Bear Fork after he married because my Dad, Bernard was born on Sugar Camp.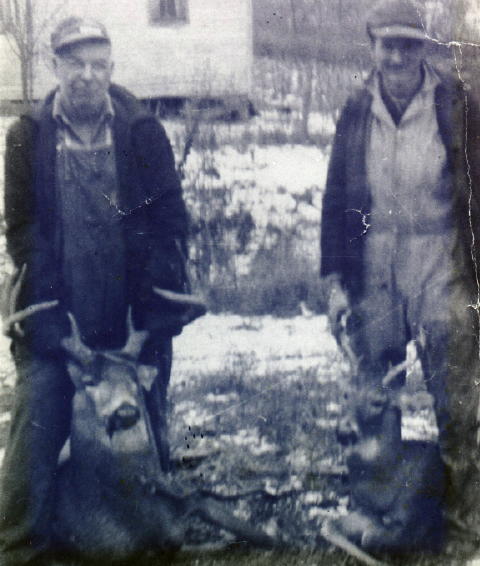 Grandpa Gallory and Uncle Lester with their deer at Gallory's home.
Gallory was around 50 years old then on Grass Run, Gilmer County, WV
Stories I have heard and was witness to some about Grandpa Gallory McCumbers. He was an avid hunter and fisherman. He loved the outdoors. He was somewhat of a sharp shooter. He out shot many at shooting matches. One story told to my brother, Denzil from Claude Newell who lived on the farm at the mouth of Mount Run, Claude was getting ready to butcher one of his hogs. Back then, people would shoot the hogs in the head for a quick kill. Claude said he was getting ready to kill the hog and was wishing that Grandpa Gallory was there to shoot the hog. Claude said about that time he looked up and saw my Grandpa Gallory walking down Mount Run.
Grandpa Gallory always carried his 22 rifle with him everywhere he went. Claude ran over and met Grandpa Gallory at the mouth of Mount Run and said "Gallory, would you shoot a hog for me?" Grandpa Gallory said sure, when do you want it done? Claude said now if you don't mind. The hog pen was quite a ways from there, but he could see the hogs. Grandpa Gallory asked Claude which one did he want killed. Claude said that red one over there. Grandpa Gallory pulled up his 22, off handed and shot the hog right in the head. Claude said that he had never seen anything like it. Claude said that he was figuring on Grandpa Gallory walking over to the hog pen before he shot the hog.
My uncle, Noah Cottrell said he went with Grandpa Gallory squirrel hunting. He said that Grandpa Gallory would shoot squirrels before daylight. He was sky lighting and shooting them with open sights. He never used a scope on his weapons.
This story I know for sure happened when I was around 11 years old at Grandpa Gallory's house. He lived on Grass Run in Gilmer County. That is where he moved to after he sold his farm to my Dad (Bernard McCumbers).
My Dad, my Uncle Lester McCumbers, Junior McCumbers and Willis McCumbers (dad's younger brothers) and my Uncle Everett Drennen (who was a brother-in-law to Dad, married to Dad's sister India) had me set marbles on a rock about 50 yards from the front porch of Grandpa Gallory's house.
They were shooting 22 rifles and I was off to the side of the rock out of any danger. I could see them carrying on, teasing each other who was the best shot. They were hitting most of the marbles, but still missing several.
I saw Grandpa Gallory coming around the side of his house with his pistol. They could not see him. I had just put a new marble on the rock. While they were deciding who was going to shoot next, I saw Grandpa Gallory lean back on the side of the house and with both hands on the pistol. He pulled up and shot the marble. It flew into pieces. They got real quiet and leaned over the porch and saw Grandpa Gallory with his pistol grinning. Needless to say, that ended the shooting match and I didn't have to set up any more marbles. Grandpa put a notch on the butt of his rifle every time he killed a deer. Deer were scarce back then.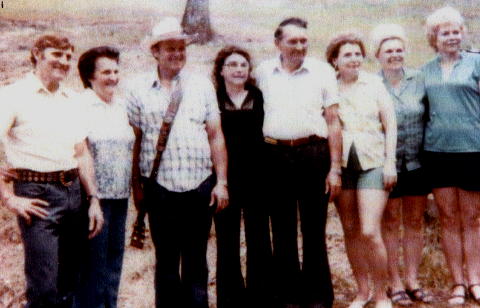 Children of Gallory and Ada
In 1961, Grandpa Gallory's birthday was going to be the following day (February 17). He didn't know that all of his kids were coming in to see him and celebrate his 63rd birthday. It was a fairly nice day on February 16 and Grandpa Gallory decided he would take his dog and go groundhog hunting. He never came back that evening.
Everyone got worried. In the dark they searched for him and didn't find him until the next day which was his birthday. His dog was still with him. He was laying on his back with a smile on his face and a mattock in his hands where he was digging out a groundhog. He had a heart attack and died doing what he loved to do. It was a sad day for all of the family of Grandpa Gallory, but a good day for him. He was a man that loved the Lord with all his heart. He went to church on Sundays and gave prayer before each meal.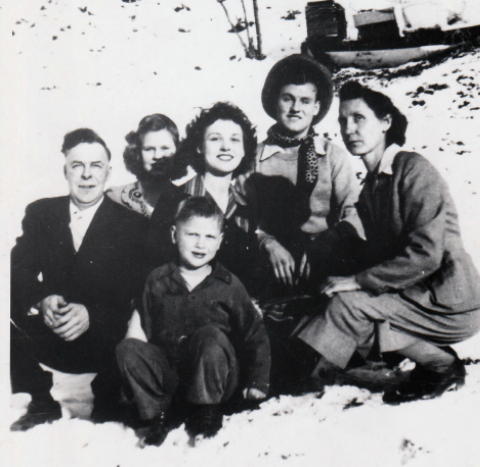 Younger picture of some of the children of Gallory and Ada