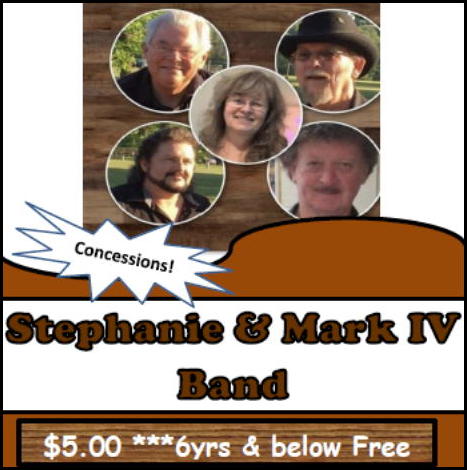 Stephanie and the Mark IV band will be appearing at the Calhoun Park Saturday evening.
The concert is at the ampitheatre stage outside from 6-9, bring your chairs, concessions will be sold. $5 per person, 6 and under are free.
It is one of the finest musical variety bands in West Virginia with years of musical experience, performing a mixture of music and comedy for a fun filled action packed trip through time.
Musical talent and a flare for entertainment, this band can take you back to the fabulous fifties, entertain you with the classic sounds of Patsy Cline, get you two stepping and line dancing to the country greats, singing along with the top 40 or a little mix of it all.
This is a versatile band that is sure to please all ages. Lead vocalist, Stephanie Von Dollen, adds her own style to the songs she grew up singing. A rich gospel background and classic country sound has allowed her albums to be played around the world.
Stephanie and The Mark IV have played with Nashville legends Charlie McCoy, Highway 101, Exile and many more Nashville artists.
For more information you may call Loretta 304-477-3695.