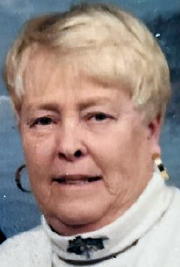 Saundra L. Johnson, 80, of Paden City, WV died Wednesday, July 14, 2021 while at Sistersville Center.

Saundra was born September 26, 1940 in Sistersville WV, daughter of the late Ernest and Ruth (Twyman) Grim.

She was the former mayor of Grantsville WV, served as a council person for Grantsville and City of Paden City, a 1958 graduate of Paden City High School, swimming instructor and diver, served on several committees and member of the Knotts Memorial Methodist Church in Grantsville WV.

In addition to her parents, she was preceded in death by her husband, Emory Johnson and sister, Marsha Grandstaff Dotson.

Surviving are her son, Stephen Johnson of Sistersville; two daughters, Kari (Paul) Cupp of Charlotte NC and Shawn (John) Burns of Hilton Head SC; six grandchildren, Caetlyn Burns, Dr. Camden Burns, Christopher Johnson, Mykal Johnson, Raegan Cupp and Avery Cupp; three great grandchildren, Elio, Nathan and Allison; brother-in-law, Howard Johnson; two sisters-in-law, Lila Mae Woollard and Grace Daily and several nieces, nephews and cousins.

At Saundra's request there will be no services.

Memorial contributions may be made, in Saundra's name, to Journey Hospice, 314 S Wells St, Sistersville, WV 26175.