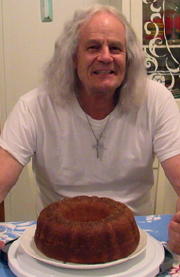 Joel Robert Kurtz died peacefully on July 11, 2021 at Haven Hospice in Orange Park, Florida.

He leaves behind the love of his life, his wife of 52 years, Linda, daughter JoLie Lynn and son (in-law) Shannon Williamson.

He is survived also by four brothers, Jack, Jim, Jeff, and Hank; one sister, Barbara Lynn; sister in law Sandy Matthews and her husband Bobby; along with many nieces, nephews and cousins he loved.

He led a life filled with shared good times and laughter with his family.

Born in Wisconsin to JoAnne and Jack Kurtz, he later moved to Wheaton MD where he grew up. He was a former Montgomery County Maryland Police officer, taking pride in protecting the people and his fellow officers.

He and Linda moved to Spencer WV in 1976 where he started his own successful carpentry and construction company. They later returned to Middletown MD in 1989. They remained until their retirement in 2006 when they moved briefly to Oklahoma to be with their daughter and son in law to spend a few years together, and then finally returning to WV to retire and enjoy the important things in life.

Joel was known for his deep love for his family and devotion to them. His proudest accomplishment was being an incredible husband and wonderful father. Linda and JoLie Lynn could not have asked for any better!

Joel loved hunting and anything that would take him into the woods. He was always a passionate defender of our Freedoms. He and Linda coached girls' softball for many years in Spencer, garnering many championship trophies. Those ladies still held a special place in his heart. He continued to watch softball on TV, including he and Linda's favorite, the College Softball World series.

Joel was always seen with a smile on his face. His love of people in general and spending time with them were one of his great and simple joys. Yet, Joel worried very much about children in our world today, concerned they did not have enough to eat, the harsh world they are living in, etc. Please keep all the children in your prayers.

Above all Joel's faith was his guiding principle. He was a strong Christian, and firm believer in his God, never wavering in his beliefs. He lived his life that way and led others to God. This brought him and his family great comfort as he made his peace at the end. He is now at rest with his father and mother who preceded him in death.

His family will feel his absence daily. And he will be deeply missed by his friends.

A celebration of life will be held at a later date in WV.

Psalm 18:33, ESV: "He made my feet like the feet of a deer and set me secure on the heights."