Gretchen Kay Barr Robertson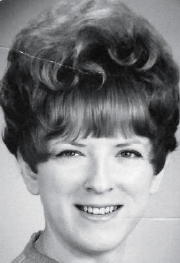 Gretchen Kay Barr Robertson, 74, died Sunday, July 19, 2020, in Oceanside CA.

She was born in Spencer WV, the daughter of the late Grace Gibson Barr and William Pratt Barr.

She was a 1963 graduate of Calhoun County High School and enrolled at Charleston School of Beauty Culture. She moved to Washington DC, after she graduated and was employed as a hairdresser until she married and moved to Torrance CA had her family, and relocated to San Diego in 1977. She was in the Aerospace industry at BAE, working in security until retiring in 2013.

Surviving are two daughters, Shannon Hess and Gina King; one grandchild, Jackson Connolly; one cousin, Erless Waldschmidt; and some nieces and nephews.

She was preceded in death by one brother, Burns Gibson Barr, and two sisters, Kathleen "Kitty" Barr and Betty Nelson.

Services will be private at Gibson Family Cemetery, Arnoldsburg WV. Donations in Gretchen's name may be made to Alzheimer's Association.