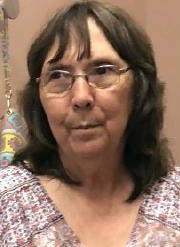 Melody Faye Shackelford Davis Cain age 70 of Glenville WV, departed this earthly life on Saturday, June 19, 2021 at the United Hospital Center in Bridgeport WV, following a battle with lung cancer.

She was born October 30, 1950 in Braxton County, daughter of the late Claude Jones and Lona Radcliff Shackelford.

Melody is a graduate of Braxton County High School, class of 1969 and worked as a CNA in the health care industry. She had previously worked at the Genesis Health Care, Glenville Center until 2009 when she stopped working to care for her first husband Charles. In her spare time, Melody enjoyed riding motorcycles, spoiling her grandchildren, living the quiet life in West Virginia, and attending the Glenville Community Church for the last 40 years.

Melody was first united in marriage to Charles Davis on May 16, 1970 who preceded her in death on January 21, 2010. She was united in marriage to her second husband Jeff Cain on April 12, 2012 who survives in Weston WV.

Surviving are 3 children, Charles William Davis and wife Angela of Jane Lew WV, Jeremy Don Davis of Glenville, and Sarah Ruth Moss and husband Jonathan of Weston; and 8 grandchildren, Erika, Seth, and Travis Davis, Dakota and wife Britney, Brandi, Kalee, Alexa, and Sierra Moss; 2 step-sons, Andy Cain, Ryan Cain and wife Tiffany; 1 step-granddaughter, McKenna Cain; and 4 siblings, Vernita Moyers of Sinking Creek, Alma Montgomery of Glenville, Ray Shackelford and wife Martha and Larry Shackelford both of West Virginia. Also surviving are 5 great-grandchildren with a sixth on the way, and a host of nieces, nephews, cousins and many other wonderful family and friends.

Along with her parents and first husband, Melody is preceded in death by 3 siblings, Robert Shackelford, Jeanette Gill, and Emogene Baker.

A funeral service will be conducted at the Ellyson Mortuary and Cremation Services, Inc., 2 Vanhorn Drive, Glenville WV at 1:00 p.m. Thursday, June 24, 2021 with Pastor Randy Wilson officiating. Burial will follow in the Pisgah Cemetery at the mouth of Holts Run Road. Friends will be received from 11:00 a.m. 1:00 p.m. Thursday at the mortuary in Glenville.

Ellyson Mortuary and Cremation Services Inc., is assisting the family of Melody Faye Shackelford Davis Cain with arrangements.