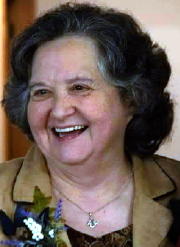 Judy Kay Groves, 74, of Dusk Camp WV, went to be with her Lord and Savior Jesus Christ in the early afternoon hours of Monday, May 17, 2021 at the Ruby Memorial Hospital in Morgantown WV, following a courageously fought short term illness.

She was born July 10, 1946 in Hugheston WV, daughter of the late George H. and Rose Ella Christian Massey.

Judy felt that one of her purposes in life was to work with children and those with special needs. She taught preschool for several years at Head Start, offered in-home babysitting for many of the neighborhood children, and worked several years at United Summit Center Day Treatment, where she retired.

She was also very active as a member of the Sand Fork Church of God. Through the years of membership she held many titles such as Sunday School Teacher, Youth Leader, Women's Ministry, and Clerk/Treasurer.

On November 10, 1963 Judy was united in marriage to the love of her life and father of her 3 beautiful children, Max B. Groves Sr. who survives.

From that union, 3 children survive, M. Bryan Groves Jr. of Dusk Camp, Karen Forsythe and husband David of Dusk Camp, and Patricia Knicely and husband Kelvin of Low Gap WV; 3 grandchildren, James Blankenship and wife Laiken of Red House WV, Cody Blankenship of Red House, and Chelsea Knicely and fiancé Mark Cordle of Low Gap; 1 sister, Patricia Waugh of Cleveland OH; and a special niece whom Judy helped raise, Rosana Redden of Fayetteville WV.

Also surviving are a host of nieces, nephews, cousins, her entire church family, and many other wonderful family and friends.

Along with her parents, Judy is preceded in death by 4 siblings, George Massey Jr., Samuel Massey Sr., Mary Lou Atwell, and Shirley Kidd, and a son-in-law whom she always considered one of her own, Clifton J. Blankenship.

A Celebration of Life will be conducted later in the summer of 2021.

In lieu of flowers the family requests that a memorial contribution be made in her name to Sand Fork Church of God, PO Box 320, Sand Fork, WV 26430 or a local Church of your choice in honor of her lifelong Christian walk.

Ellyson Mortuary and Cremation Services, Inc. of Glenville WV, is honored to assist the family of Judy Kay Groves with arrangements.