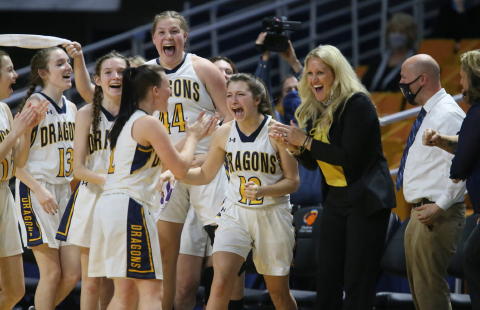 Cameron Dragons defeated Calhoun Lady Red Devils today
in the semi-final round of WV Class A State Tournament
4/29/21 - The Calhoun Lady Red Devils were defeated Thursday by the Cameron Titans 44-28, the Calhoun ladies first ever trip to a state championship.
The second-seeded Dragons were back at it again Thursday in a semifinal against third-seeded Calhoun County.
Cameron limited the Red Devils to seven field goals and less than 20 percent shooting.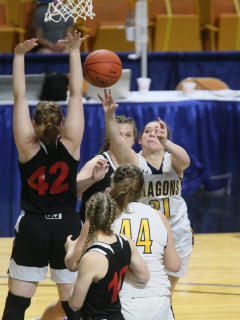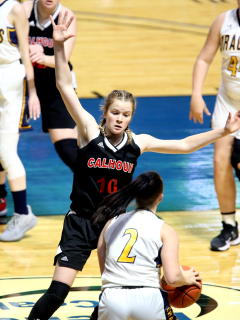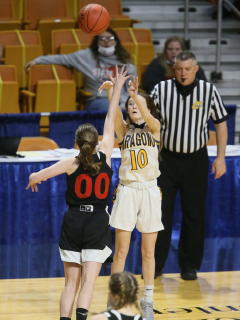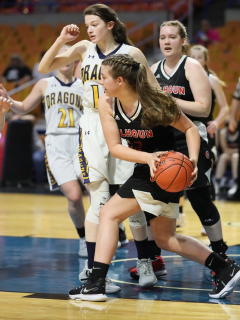 Calhoun County is very proud of the Lady Devils
dynamic season, and enthusiastic team players
"We knew they had two phenomenal guards that shoot the ball really well," Cameron coach Holly Pettit said of the Red Devils. "Our game plan was to force them left and get a hand in their face. I couldn't have asked for better defense from my guards."
Calhoun County (14-4) scored six or eight points in every quarter and its only lead was 2-0. Red Devils' guard Josie Montgomery picked up four first-half fouls, which didn't help Calhoun as it tried to solve the Dragons' relentless defense.
"We faltered a little bit," Calhoun coach Kevin Boak said. "That was the first time I'd seen the pressure really get to us."
"(Clutter) might be the most composed girl as a freshman that I've seen," Boak said. "I was so impressed with her. She made a world of difference getting the ball up and down the floor and defensively, always being right there on us. She made it hard for us to get into our offense."