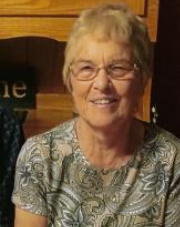 Mary Katherine Bauerbach Rhodes Nicholson, age 85 of Grass Run Road, Normantown WV, departed this earthly life in the late evening hours of Monday, April 26, 2021 at her home with her loving family by her side.

She was born April 1, 1936 in Marietta OH, daughter of the late John and Marie Offenberger Bauerbach.

Mary is graduate of Lowell High School, class of 1954. She spent most of her working life as a switch board operator for Ohio Bell Telecommunications and was a bank teller for the People's Bank in Lowell OH and Marietta OH

In her spare time, Mary loved baking, cooking, sewing, gardening, spending time with family and friends, spoiling her grandchildren whenever possible, and laughing with friends.

Mary is Catholic by faith and attended the Our Lady of Mercy Catholic Church in Lowell, and the Good Shepherd Catholic Church in Glenville, WV.

On October 21, 2001 Mary was united in marriage to Richard M. "John" Nicholson, who survives at their home on Grass Run.

Surviving is a daughter, Lora Bamberger (Scott) of Stow OH; a step-daughter, Debby Gregory (Paul) of Normantown; a step-son, Randy Nicholson (Phyllis) of Akron OH; 3 siblings, Betty Morris (R.B.) of Beverly OH, Joann Schott (Dean) of Beverly, and Cecil Bauerbach of Lowell; and 4 grandchildren, Ethan and Emily Bamberger both of Stow OH, Nate Gregory (Brittany) of Glenville WV, and Lindsay Gregory of Morristown NJ; and a great-grandchild, Bryson Gregory of Glenville.

Also surviving are a host of nieces, nephews, cousins, and many other wonderful Ohio and West Virginia family and friends.

Along with her parents, Mary is preceded in death by her first husband Charles Rhodes who passed on June 3, 1991, and 3 brothers, Don, David, and James Bauerbach.

A public viewing will be conducted at the Ellyson Mortuary, Inc., 2 Vanhorn Drive, Glenville WV from 11:00 a.m. -1:00 p.m. Friday April 30, 2021 with a small service to follow at 1:00 p.m.

Following local services, Mary will return to Lowell OH, for a Mass of Christian Burial Ceremony at the Our Lady of Mercy Catholic Church, 5001 Lowell Hill Road, Lowell OH at 10:00 a.m. Saturday, May 1, 2021 with Father David Gaydosik officiating. Burial will follow in the Our Lady of Mercy Cemetery beside the church.

In lieu of flowers, the family request memorial contributions be made to WV Caring Hospice, PO Box 323, Burnsville, WV 26335 or the Hospice Facility in your area, in Mary's honor.

In accordance with the mandates set forth by the State of West Virginia and the State of Ohio, masks or some kind of facial covering must be worn inside the mortuary in Glenville and Catholic Church in Ohio and social distancing must be observed.

Ellyson Mortuary and Cremation Services, Inc., is assisting the family of Mary K. Bauerbach Rhodes Nicholson with local arrangements.